Dairy Discovery Zone Brings Dairy Farming to Consumers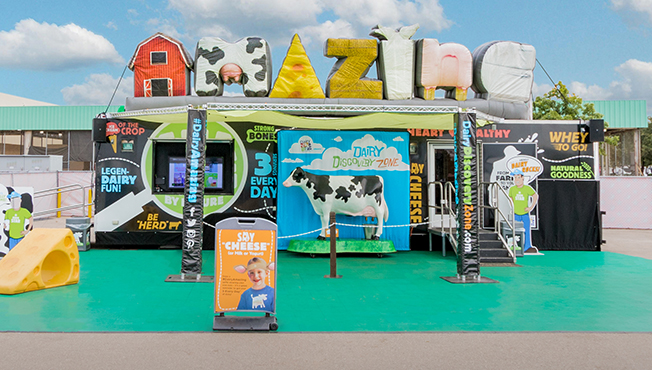 You've heard it before: farmers need to connect with the public and share their stories of life on a dairy farm. While most dairy farm families work to build trust and transparency with consumers, there are limiting factors. Dairy farming isn't a nine-to-five job and dairy farms are not always located near large populations.
Dairy MAX's Dairy Discovery Zone, a traveling interactive dairy exhibit, brings fun and activities based around modern dairy farming directly to large populations. The Dairy Discovery Zone sets up at many events across our region, such as the State Fair of Texas, New Mexico State Fair, and National Western Stock Show, to name a few. The purpose of the Dairy Discovery Zone is to introduce modern dairy farming in a fun and interactive way, while also answering questions and addressing dairy misconceptions. 2018 brought in record numbers with the Dairy Discovery Zone reaching over 355,000 visitors and hitting the 2 million total visitor mark. 
Kaci Creel, vice president, corporate communications says, "The Dairy Discovery Zone is a great combination where entertainment meets educational exhibit, what we call edutainment – and that's part of the reason it's so popular at events."
The Dairy Discovery Zone offers a unique experience for its visitors. Attendees meet Bella the cow, a legendary animatronic cow that provides milking demos, test their strength against simulated farm chores with Farm Arm, and get interactive with a green screen imposing their face into a fun dairy photo which can be sent and shared digitally amplifying the #DairyAmazing message online.
Throughout the fun and interactive components, dairy farmers are the true heroes of the exhibit. Each component, like the Farmer Wall and the Farm-to-Fridge story, tell the story of modern dairy farming and showcase where dairy foods come from.
"While the exhibit is fun and interactive, its purpose is to improve the farm-to-fridge information gap," Creel states. "We field questions from consumers and hand out nutrition-focused materials to help tell the whole farm-to-fridge story."
Dairy Discovery Zone also connects with school tour programs to increase interactions directly with youth. Creel says everyone has heard the stories online about people who do not know where their milk comes from, and the Dairy Discovery Zone team has helped more than one confused youth. The goal for the Dairy Discovery Zone is that when students leave the exhibit, their misconceptions are gone, and they walk away with a whole new understanding of dairy, including the fact that chocolate milk does not actually come from brown cows!
In addition to reaching consumers with the exhibit, Dairy MAX maintains a positive dairy impression online through its social media platforms and website, DairyDiscoveryZone.com. DairyDiscoveryZone.com is a go-to place online for consumers to find information on all things dairy. Visitors to the Dairy Discovery Zone exhibit are encouraged to visit the website for recipes, blogs and more kids' activities. Dairy MAX's online platforms work in tandem with the exhibit to connect consumers to local dairy farm families through videos, online tours and fun dairy facts.
With our outreach efforts, we are expanding dairy's reach and education about where dairy foods come from and how to incorporate dairy into a healthy, balanced diet. By providing participants opportunities to interact with dairy professionals face-to-face and digitally, the exhibit builds positive influence, trust and transparency of modern dairy farming.
See how we are interacting with our consumers online by visiting DairyDiscoveryZone.com.