Dairy Discovery Zone Celebrates Successful Spring Season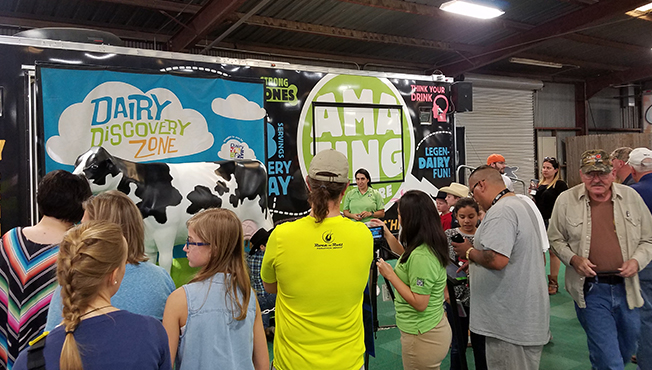 Spring in Texas is stock show season. From San Angelo to Houston, Fort Worth to San Antonio, and county fairs, the show circuit makes its rounds across Texas. These shows attract more than livestock exhibitors and rodeo participants. Consumers without any background in agriculture also attend. That's why the Dairy Discovery Zone mobile exhibit travels across the region, to reach consumers where they are.
"Consumers are increasingly interested in where their food comes from, and the Dairy Discovery Zone allows us to show them in a unique and fun way," says Kaci Creel, senior director of consumer confidence at Dairy MAX.
Through interactive activities like milking a model cow, learning about common industry terms and dairy breeds with the Legendairy Cow and playing digital games, the farm-to-fridge message is shared with consumers.
"Since the relaunch of the exhibit in 2015, 843,706 consumers have interacted with the Dairy Discovery Zone," Creel states.
New for the 2017 season the Dairy Discovery Zone launched agricultural partnerships to increase audience size and exposure, Creel shared the news, "We are excited to announce that Dairy MAX partnered with Texas Farm Bureau's Planet Agriculture exhibit at the Fort Worth Stock Show & Rodeo."
Though the Dairy Discovery Zone did not travel to Fort Worth, Dairy MAX provided video and other educational materials to the dairy portion of Planet Agriculture, making the dairy exhibit more interactive for participants and children on school tours. This partnership allowed Dairy MAX to reach an audience not previously targeted.
"Through Planet Agriculture at Fort Worth Stock Show & Rodeo, a positive dairy message reached 92,011 consumers. More than 16,000 of these consumers were students on school tours," Creel says. Looking ahead, Dairy MAX will continue to grow the partnership with Texas Farm Bureau to continue to promote dairy and agriculture as a whole throughout our region.
The Dairy Discovery Zone exhibit saw its first visitors for the 2017 season at the San Antonio Stock Show & Rodeo. The exhibit hosted thousands of consumers of all ages throughout the 18 day run. "In San Antonio, 132,000 visitors experienced the Dairy Discovery Zone, more than 17,000 were attendees from school tours," Creel states.
The Dairy Discovery Zone wrapped up the spring season with a 15 day run at Rodeo Austin and according to Creel, "a total of 27,832 consumers visited the exhibit during Rodeo Austin, and 4,532 of which were from school tours."
While the spring season has come to a close, Dairy MAX is continuing work to provide a great experience for consumers during fall fair season. To see the Dairy Discovery Zone in action, mark your calendars now for the New Mexico State Fair from September 7-17 or the State Fair of Texas September 29-October 22 or to stop by DairyDiscoveryZone.com to follow the tour schedule.