Dairy Discovery Zone See Record Number of Visitors in 2017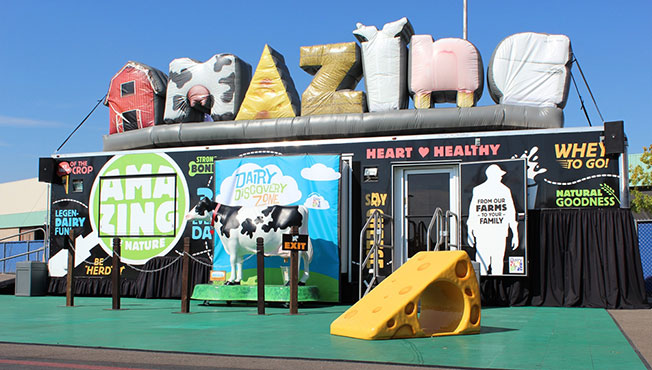 The Dairy Discovery Zone (DDZ) has been on the road answering all kinds of consumer questions like:
What makes dairy such a super food?
Is milk ever touched by human hands?
How long does it take milk to get from the farm to my local grocery store?
The DDZ tackles these questions in a fun and engaging way throughout our region. This year over 271,000 people stopped by the Dairy Discovery Zone (DDZ) and had a dairy AMAZING visit.
In 2017 the DDZ visited the San Antonio Livestock Show, Austin Rodeo, New Mexico State Fair and State Fair of Texas spending a total of 68 days open to the public for visitors to stop by and learn facts about all things dairy. Consumers had the opportunity to see what cows eat, build a healthy meal on the MyPlate nutrient wall and play Legendairy Cow to learn about the 6 different breeds of dairy cows in our region.
After touring the DDZ visitors had the opportunity to play in Farmer Dan's yard where they could slide down slice of cheese and milk and take photos with Maybelle our animatronic cow. New this year visitors had the opportunity to test their farm strength and see how much help they could be on the dairy farm with Farm Arm. A trip to the DDZ wouldn't be complete without some great prizes. Folks who stopped by received backpacks, recipe books, cow ears and one lucky person at each venue won free milk for a year!
The DDZ will kick off 2018 with some great venues including a couple new stops at the National Western Stock Show and the Colorado State Fair. No fear, the DDZ will be returning to all of it's favorite venues next year as well. We hope you will get a chance to visit the DDZ in 2018!