Dairy MAX and San Antonio ISD Collaborate with Culinary Health Education Program to Launch Smoothies for School Menus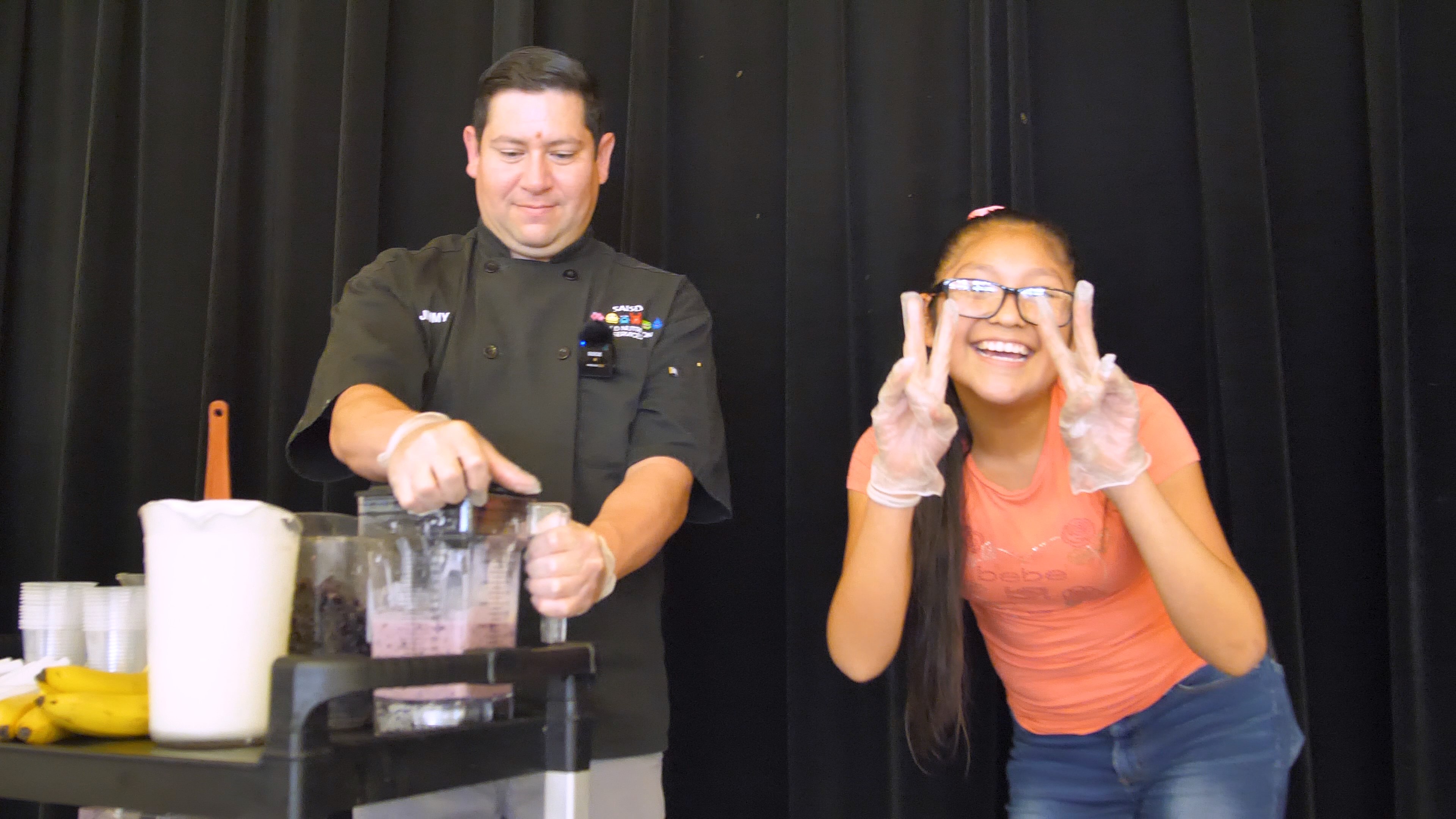 Dairy MAX, a leading dairy council, and the San Antonio Independent School District (SAISD) are excited to announce their partnership with CHEF, a Culinary Health Education Program, to make smoothies available on SAISD menus. This innovative collaboration aims to promote healthy eating habits, provide students with valuable culinary skills, and encourage the consumption of dairy products as part of a balanced diet.
The CHEF program aligns well with the goals and values of Dairy MAX, focusing on the belief that food is medicine and promoting healthier eating habits among children and families. Recognizing the importance of nutrition education and the impact of school meals on student health, Dairy MAX and SAISD joining forces with CHEF brings a fun and interactive culinary health education program to the district. As a part of this initiative, smoothies made with dairy products will be incorporated into the school menus, offering students a delicious and nutritious beverage option.
CHEF provides students with hands-on learning experiences, teaching them about the benefits of consuming dairy products and the role they play in a healthy diet. Students will have the opportunity to participate in culinary lessons, where they will learn how to prepare smoothies using fresh ingredients, including dairy products like milk and yogurt. These lessons will not only enhance their culinary skills, but also empower them to make informed food choices. CHEF's program offers nutrition and culinary education through physical education classes, emphasizing the importance of healthy eating and providing practical cooking skills. By involving the physical education teacher to demonstrate recipes and allowing students to sample them, CHEF effectively builds culinary skills while educating about nutrition. 
Moreover, partnering with CHEF provides SAISD and Dairy MAX with an opportunity to evaluate the impact of nutrition education and menu selection in the cafeteria on students' behavior and purchasing decisions at home. This comprehensive approach helps create a positive influence on both school and home environments, promoting sustainable nutrition practices.
"We are thrilled to partner with San Antonio ISD in this culinary health education program," said Schelli Avant, Dairy MAX school wellness consultant. "By introducing smoothies made with dairy products, we aim to provide students with a nutritious option they will enjoy while educating them about the benefits of including dairy in their diets. This program will empower students to make healthier choices and develop lifelong culinary skills."
San Antonio ISD is committed to promoting the health and well-being of its students, and this collaboration aligns with their vision. "Our partnership with CHEF and Dairy MAX has greatly benefitted our child nutrition department," said Allisan Ramos, child nutrition assistant director from SAISD. "We are able to offer different types of food and new recipes in the cafeteria by incorporating smoothies made with dairy products, which is a tasty and nutrient-rich option that supports student health and engages their interest in culinary arts."
Additionally, collaborating with the San Antonio Food Bank to create weekly recipe demo boxes for each school further enhances the program's impact. The culinary health education program will be implemented in all elementary and middle schools within the San Antonio ISD, with plans for expansion to high schools in the future. The program will also include educational resources and workshops for parents, promoting the importance of incorporating dairy into their children's diets.
Dairy MAX and SAISD invite students, parents and the community to join them in celebrating this partnership and the positive impact it will have on the health and well-being of students in the district. Overall, partnering with CHEF and implementing these initiatives can contribute to Dairy MAX's mission of building trust in youth, promoting sustainable nutrition and combating food insecurity.
For more information on how to incorporate smoothies into your school menus check out the Nutrition NOW Smoothies page or contact your local Dairy MAX School Wellness Consultant.
###
About Dairy MAX
Founded more than 40 years ago, Dairy MAX is one of the leading regional dairy councils in America – representing more than 900 dairy farmers and serving communities in eight states: Colorado, southwest Kansas, Louisiana, Montana, New Mexico, western Oklahoma, Texas and Wyoming. A nonprofit organization, Dairy MAX is part of a nationwide effort to promote American agriculture, support dairy farming and drive impact for every dairy farmer. The organization operates five audience outreach programs: business development, consumer marketing, health and wellness, industry image and relations and school marketing. For more information about Dairy MAX and its team of experts, visit DairyMAX.org. Dairy resources and delicious recipes are available at DairyDiscoveryZone.com.
About Culinary Health Education for Families (CHEF):
Rooted in the belief that food is medicine, CHEF is a Culinary Health Education program that teaches children and families basic nutrition and practical cooking skills with the long-term goal of motivating individuals and communities to adopt and sustain healthier eating habits. The mission of CHEF is to drive healthy eating among children and families by promoting nutritious food and home cooking as key ingredients in the recipe for life-long health and wellness. Since 2019, we have reached more than 106,000 students in 238 schools throughout San Antonio. For more information on CHEF, visit chefsa.org or find us on Facebook, Instagram, TikTok and Twitter at @CHEFSanAntonio.
About San Antonio Independent School District:
As San Antonio's founding school district, SAISD schools have served the heart of the Alamo City for more than 100 years. Today, SAISD serves about 45,000 students in our culturally proud, urban community. With forward-thinking academic programs at neighborhood schools and a growing list of specialized schools, SAISD students can customize their own educational experience and find what truly drives them. The spirit of SAISD also can be found in its extracurricular programs and activities from extensive athletics and fine arts – including a mariachi curriculum that was pioneered in SAISD before being modeled across the nation. For more information, visit www.saisd.net.