Dairy MAX Cooler Program Expands to Colorado State University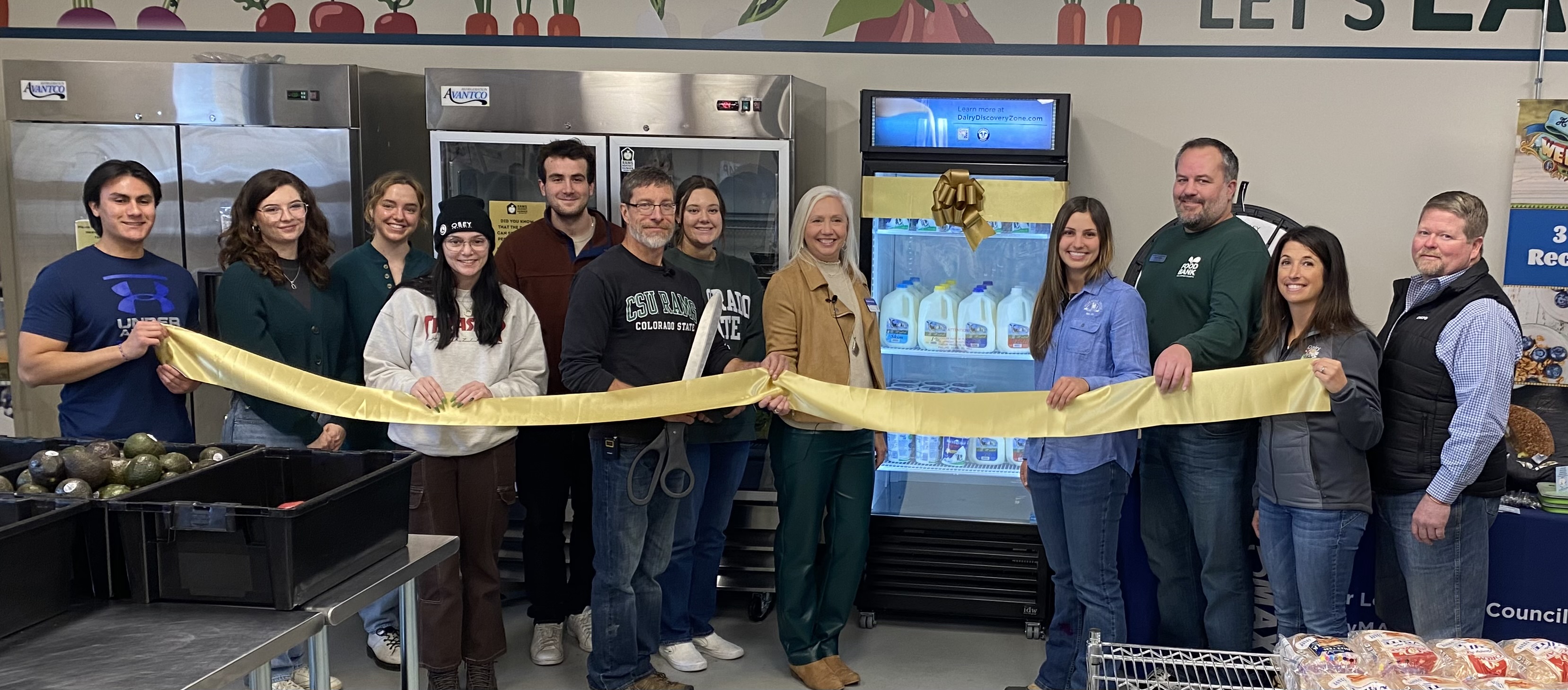 Dairy MAX teamed up with Colorado State University at the Rams Against Hunger Food Pantry
Colorado State University (CSU) and Dairy MAX recently teamed up to provide the Rams Against Hunger Food Pantry (RAH) access to dairy foods and beverages. The partnership was commemorated with a ribbon cutting to celebrate the donation of a new commercial-grade refrigerator provided by Dairy MAX, along with 200 gallons of milk that Morning Fresh Dairy donated for CSU students and faculty.
A CSU campus survey taken during the 2019-2020 academic year revealed 29 percent of students faced some level of food insecurity; therefore, the RAH Food Pantry was created to mitigate this issue and support students, faculty, and staff.
"When the pantry looks to address students, we do so in ways that are culturally relevant to a broad swath of students and that are going to meet the needs in ways that affirm people's dignity," said Michael Buttram, Colorado State University Basic Needs Program Manager. "That looks different for everyone, so the pantry tries to create a welcoming space to serve grads, undergrads, traditional students, non-traditional students, student parents, and a number of our staff."
The RAH Food Pantry offers an authentic grocery-shopping experience for students and faculty. Along with the donated cooler, the pantry has a well-equipped walk-in freezer, spacious aisles, a wide selection of frozen foods, fresh produce, milk, eggs, and dry and shelf-stable products.
Similar to the RAH Food Pantry partnership, Dairy MAX partners with local and regional food pantries to provide 64-gallon coolers to increase refrigeration space within the pantries. "The cooler program was created during the COVID-19 pandemic to alleviate some of the challenges that come along with providing dairy, such as access and refrigeration," said Michelle Van Pelt, Dairy MAX business development manager. "The coolers are used to store milk, cheese, butter, yogurt, and other dairy foods and drinks desired by the communities the pantries serve."
The cooler program also allows Dairy MAX to create new partnerships and connect with Generation Z consumers, whose dairy consumption tends to wane in high school and in college. To date, six university pantries across four states have received Dairy MAX coolers: the University of Texas at San Antonio, Louisiana Tech, Tarleton State, Midwestern State, Redlands Community College, and most recently Colorado State University. 
If you're interested in learning more about the dairy cooler program, contact your local Dairy MAX representative. 
####
About Dairy MAX
Founded more than 40 years ago, Dairy MAX is one of the leading regional dairy councils in America – representing more than 900 dairy farmers and serving communities in eight states: Colorado, southwest Kansas, Louisiana, Montana, New Mexico, western Oklahoma, Texas and Wyoming. A nonprofit organization, Dairy MAX is part of a nationwide effort to support dairy farming and drive impact for every dairy farmer, while promoting American agriculture. The organization operates five audience outreach programs: business development, consumer marketing, health and wellness, industry image and relations and school marketing. For more information about Dairy MAX and its team of experts, visit DairyMAX.org. Dairy resources and delicious recipes are available at DairyDiscoveryZone.com.