Dairy MAX Dairy Discovery Zone Kicks Off Fall Tour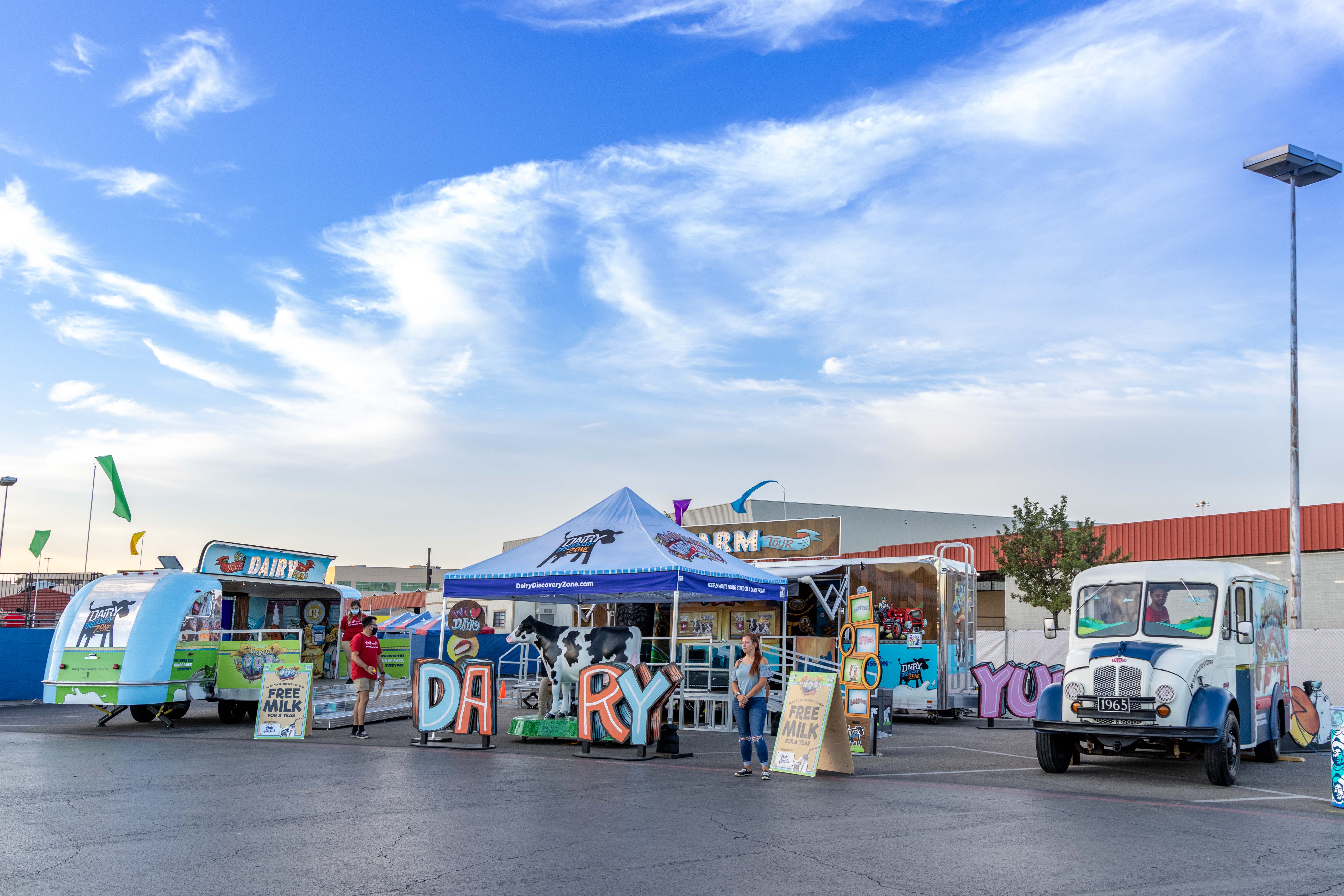 Autumn brings some of our favorite things like cool temperatures, cozy meals with our favorite dairy foods and the fall tour of the Dairy Discovery Zone (DDZ) exhibit. With the average American being at least 3 generations removed from agriculture the DDZ was designed to bridge that gap and showcase the dairy industry in a fun and educational way. The Dairy Discovery Zone visits state fairs across the region to connect fairgoers to dairy farming through an interactive dairy edu-tainment exhibit, showing people where their food comes from and highlighting the dairy farm families who care for their animals, land and the planet.
Since the Dairy Discovery Zone debuted in 2010, the exhibit has reached over 3 million visitors, and over 60,000 students have interacted in the DDZ during school tours. Revamped in 2021, the DDZ experience now allows visitors to play, dance, build, explore, learn and smile as a part of the DDZ's self-guided, interactive experience. Whether it is milking Maybelle the animatronic cow, creating a digital dairy farm or dancing the day away on the arcade-style games, there is truly something for every person and every age inside the exhibit. But most importantly, consumers can learn about hardworking farm families and what goes into getting nutritious dairy from farm to table.
"The DDZ provides an opportunity for us to connect directly with consumers who are now three and four generations removed from the farm," says Kaci Creel, Dairy MAX's vice president of communications. "Venues like fairs and stock shows are the perfect opportunity to have fun and connect with families while we share the many nutritional benefits of dairy and dispel common myths they may hear from their families, friends or on the internet. There is no better way to understand where your food comes from than straight from the source itself."
As the Dairy Discovery Zone has grown, so have opportunities for the exhibit to visit new events across Dairy MAX's eight-state region. The updated and interactive elements of the DDZ have also aided in reaching a new and influential generation of consumers, Gen Z, who want memorable experiences to help them to feel a part of the process of where their food comes from.
The Dairy Discovery Zone exhibit provides a behind-the-scenes exploration of how your favorite dairy foods go from the farm to your table. Fairgoers also discover how the 13 essential nutrients in dairy fuel their bodies, and how dairy farmers are working to protect people, animals and the planet for generations to come.
The Dairy Discovery Zone recently kicked off its fall tour at the Colorado State Fair and the New Mexico State Fair and will venture to the State Fair of Texas at the end of September. Dairy MAX also has a presence at the Oklahoma State Fair and East Texas State Fair, bringing more dairy edu-tainment to consumers across the region.
To learn more about the cheesiest exhibit on wheels and see where we will be next, visit our online schedule. 
###
About Dairy MAX
Founded more than 40 years ago, Dairy MAX is one of the leading regional dairy councils in America – representing more than 900 dairy farmers and serving communities in eight states: Colorado, southwest Kansas, Louisiana, Montana, New Mexico, western Oklahoma, Texas and Wyoming. A nonprofit organization, Dairy MAX is part of a nationwide effort to promote American agriculture, support dairy farming and drive impact for every dairy farmer. The organization operates five audience outreach programs: business development, consumer marketing, health and wellness, industry image and relations and school marketing. For more information about Dairy MAX and its team of experts, visit DairyMAX.org. Dairy resources and delicious recipes are available at DairyDiscoveryZone.com.