Dairy MAX Member Honored for Sustainability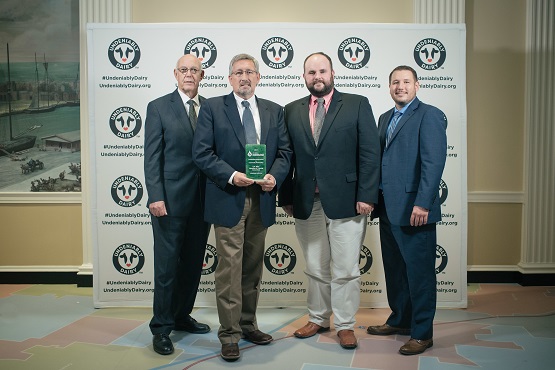 The Innovation Center for U.S. Dairy announced its sixth annual U.S. Dairy Sustainability Awards on June 28 in Chicago at their annual ceremony. Robert Hagevoort, Ph.D. and Michael Tomaszewski, Ph.D. with U.S. Dairy Education & Training Consortium earned Honorable Mention honors for 2017.
The U.S. Dairy Sustainability Awards are chosen by the Dairy Sustainability Alliance, a board of experts to help measure, improve and communicate dairy's role in a sustainable food system for the present and future. The awards are the result of the Innovation Center's strategic plan focused on social responsibility in a changing consumer landscape, and issues dairy farmers face on their farm routinely.
"This year's winners devised new ways to protect our land, air and water. And they're proactive about building strong relationships with their communities and employees," said Barbara O'Brien, president of the Innovation Center for U.S. Dairy. "Throughout the dairy value chain, all sizes of dairy farms and companies use sustainable practices because it's good for the environment, good for their community and good for business."
Dairy MAX congratulates Robert Hagevoort, Michael Tomazewski and the U.S. Dairy Education & Training Consortium (USDETC) on their honorable mention honors.
"We commend the efforts and commitment by Hagevoort and the Dairy Consortium for addressing potential issues young professionals entering the dairy profession face," said Marty McKinzie, vice president of industry image and relations. "With the diverse learning opportunities [USDETC] provides through their curriculum, the future of the dairy industry has never looked brighter."
We've seen the need for skilled agricultural professionals in our region of the Southwestern U.S. continue to grow. As universities in this region reduce or eliminate dairy programs, USDETC thrives by answering a direct need for skilled agricultural professionals who are knowledgeable of current dairy farming trends and opportunities. USDETC grows participants' understanding of what a dairy operation entails so they're better equipped to lead. Throughout the program students visit different dairies and study different types of production practices and management styles.
"If we fail to attract and adequately prepare sufficient, capable and motivated young individuals into our industry, the industry in the U.S. is in serious jeopardy, particularly since agriculture in general is considered a burgeoning industry," says Robert Hagevoort, Extension Dairy Specialist and Associate Professor at New Mexico State University.
Through his vision, Hagevoort demonstrated innovation and filled an important role in educating the next generation of dairy professionals. Now in its 10th year, USDETC has the potential to expand and grow the program in additional regions across the U.S., amplifying their reach and increasing the number of capable young professionals to work in the dairy industry.
Since 2008, USDETC has trained more than 400 students from 44 universities in the intensive six-week program with 67 percent of those graduates employed on a dairy or working in dairy-related fields.
If you want to learn more about USDETC and this year's U.S. Dairy Sustainability Awards visit http://www.usdairy.com/sustainability/us-dairy-sustainability-awards .