Dairy MAX Raises Dollars for Dairy at Texas Rangers Game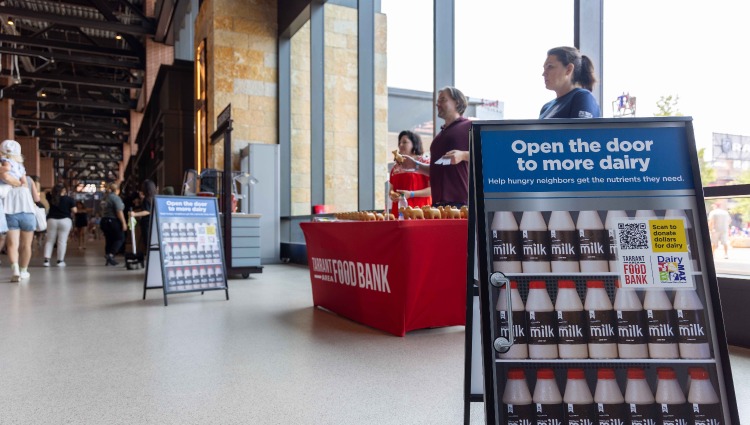 Dairy MAX and Tarrant Area Food Bank raised enough money for 2,665 servings of dairy for the food bank at the Texas Rangers game on Saturday, June 17. The money will go toward milk, cheese and yogurt for neighbors in need. 
The event, hosted alongside the Dairy MAX Farmer's Day event at the Texas Rangers, is an example of Dairy MAX's commitment to food banks and pantries in Montana, Wyoming, Colorado, New Mexico, Texas, Kansas, Oklahoma and Louisiana. Dairy MAX works with food bank network partners throughout its eight-state region to create proven and unique models that improve supply and access of dairy foods like milk, cheese and yogurt for food bank network patrons. 
"Dairy is one the most requested, yet least available foods in food banks," Michelle Van Pelt, Dairy MAX business development manager, said. "Dairy MAX really focuses on being a trusted partner for food banks to alleviate some of the logistical burdens in sourcing and storing dairy foods like milk, cheese and yogurt." 
One of those logistical burdens is the inability of food banks to accept direct public donations of dairy due to its perishability, so supply of dairy foods is often reliant on government programs and partnerships with industry organizations. 
"Creating an opportunity for community members to donate dollars specifically for dairy foods like milk, cheese and yogurt creates a more consistent supply of those foods," Van Pelt said. "It also highlights the importance of dairy foods in food bank networks in creating an equitable food system." 
Dairy foods like milk, cheese and yogurt are an important staple for patrons of food banks and pantries due to their nourishing and affordable characteristics. Dairy foods provide 13 essential nutrients, including three of the four nutrients of public health concern—calcium, vitamin D and potassium. In fact, a serving of dairy only costs about 20 cents, making dairy foods one of the most affordable sources of those three nutrients of public health concern.   
"Dairy foods are extremely nutrient-rich," Van Pelt said. "Combine that with affordability, and dairy foods very quickly become the best bang for the food bank's buck." 
Reach out to Dairy MAX to partner on similar activations to help raise dollars for dairy for your food bank network.