The Evolution of Milk and the School Meal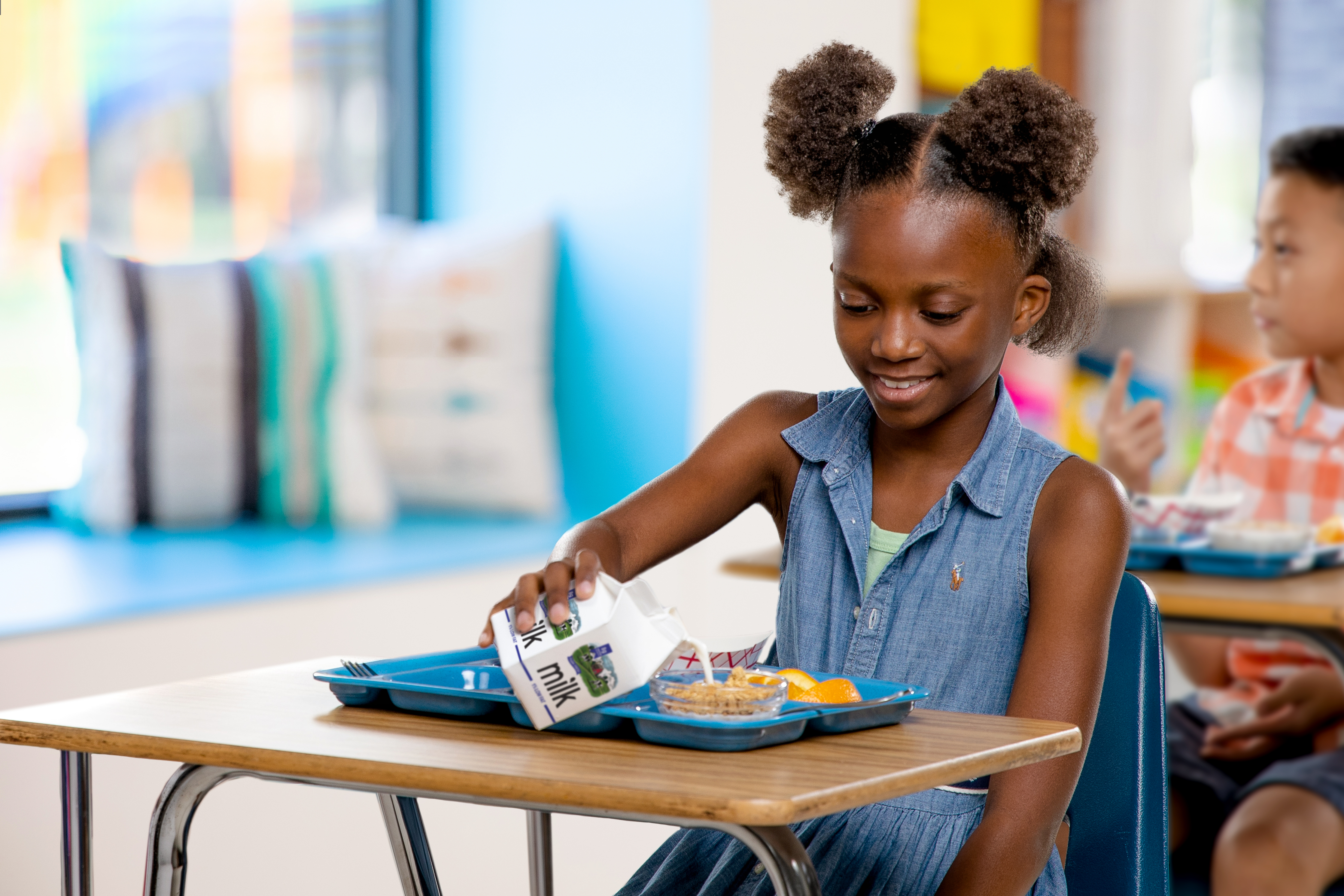 Milk has been a cornerstone of school nutrition programs for well over a century, playing a vital role in providing essential nutrients to students. Read on for a journey through time to explore the history of milk in school meals, the current federal programs supporting school nutrition and the challenges that lie ahead, especially concerning flavored milk.
Early Initiatives
Long before the National School Lunch Act of 1946, educators recognized the importance of providing nutritious meals to students. In the early 1900s, rural schools faced challenges in offering hot meals and ensuring nutritional value in homemade lunches. Teachers began preparing soups and hot dishes from donated meats and vegetables, and in 1914, a Florida health officer initiated a successful project providing half pints of milk to children daily. This marked the beginning of the school lunch program's expansion across the country.
Federal School Meal Programs
Today, the United States Department of Agriculture (USDA) administers several federal school meal programs, ensuring that children receive balanced, low-cost, or free meals. These programs include:
National School Breakfast Program
National School Lunch Program
Afterschool Snack/Supper Program
Summer Food Service Program
Special Milk Program
These programs are typically managed at the local level, with USDA oversight and state agency support. Notably, across the country 30 million children consume school lunch daily, while 15 million enjoy school breakfast.
Breakfast
15 million children participate every day
2.45 billion breakfast meals served during 2021-2022 sy
30% average daily participation
Breakfast participation has been trending up
Lunch
30 million children participate every day
4.87 billion lunch meals served during 2021-2022 sy
57% average daily participation
Lunch participation has decreased in recent years
Why School Meals Matter
For low-income children, milk remains a vital part of school meals, providing 77% of their total daily milk intake1. Research indicates that milk, whether flavored or unflavored, helps children meet their daily recommended dairy intake, essential for growth and development. Most of the school milk consumed is flavored, with formulations containing less added sugar than retail options (2). Studies also show that removing flavored milk from schools leads to decreased overall milk consumption (3).
The Changing Landscape of School Meal Programs
A significant shift to school meals occurred recently: the expiration of all federal waivers providing free meals for all students before the start of the 2022-2023 school year. This marked a return to the normal operation of the National School Lunch (NSLP) and Breakfast (NSBP) Programs.  However, a growing number of states have recognized the importance of universal free meals and are exploring innovative ways to make this a reality. This chart provides a glimpse into this changing landscape.
States in Green: These states are actively working to pass legislation that supports universal free meals, ensuring that every student has access to nutritious food during the school day. From the Dairy MAX region that includes Montana (MT), Louisiana (LA) and Oklahoma (OK.)
States in Blue: In contrast, states in blue have already implemented permanent policies, either starting in the previous year or during the current year. Notable examples include New Mexico (NM) and Colorado (CO), where students are benefiting from free breakfast and lunch programs.
States in Gray: In Texas (TX), the 88th Texas Legislature approved funding as part of the General Appropriations Act so that students who qualify for reduced-price school meals can eat breakfast at no charge for the next two years. The remaining two states in the Dairy MAX region, Wyoming (WY) and Kansas (KS) don't have any active legislation happening.
Amidst these changes in school meal programs, there exists a tremendous opportunity for Dairy MAX to play a pivotal role. Our team works closely with school districts to help them close the gap in breakfast participation and, in turn, increase the consumption of dairy products.
USDA is required by law to periodically update the school nutrition standards to reflect the most recent Dietary Guidelines for Americans (DGAs).  It's been over a decade since the last major update to school meal standards which aligned with the 2010 DGA.
Recent studies revealed that a significant portion of school meals contained added sugars, with flavored milk being a key contributor.  Based on these findings, USDA is proposing updates that largely focus on added sugars, but also consider sodium and whole grains.
The proposed rule presents two options:
Option A: This option permits flavored milk for grades 9-12 but places limitations on lower grades. Supporters of this option were asked whether they believe flavored milk should be limited for grades K-8 or if the restriction should only apply to grades K-5.
Option B: This choice maintains the current practice, allowing flavored milk to be served from kindergarten to 12th grade. We are hopeful that this option garners the most support.
Regardless of which option ultimately becomes part of the final rule, flavored milk will be subject to a limit of 10g of added sugar per 8oz serving. Fortunately, all processors in the Dairy MAX region already adhere to or are below this 10g limit for their school milk formulations.
Sodium content in flavored milk is another concern. Chocolate milk, for instance, contains around 200mg of sodium per 8oz, while the breakfast meal limits range from 450-550mg. This presents menu planning challenges for schools. Removing flavored milk, especially at breakfast, may seem like an easy solution to address both sugar and sodium concerns. However, research shows this could have huge nutritional consequences for students.
The proposed ruling was issued last Spring and was made open for public comments. Both Dairy MAX and National Dairy Council (NDC) actively participated in this process. The response was overwhelming, with over 96,000 comments submitted from various stakeholders.
We anticipate the final rule to be unveiled in early 2024. Following this, implementation of any new standards will roll out gradually in schools from 2024-2025 through 2029-2030.
Regardless of the outcome of the ruling, Dairy MAX will continue to educate on and promote the benefits of flavored milk to our stakeholders and consumers. Our school meal expansion work will also continue, and additional tactics will be added to provide recipes and menu solutions that not only keep REAL dairy on the menu but lead to increased dairy sales and consumption, ensuring all students receive the nourishment they deserve.
Sources:
Cullen & Chen, 2017. The contribution of the USDA school breakfast and lunch program meals to student daily dietary intake
Prime Consulting. All Channel Tracking: The Projection of Milk Volume by Sales Channel, 2019 Edition. August 2020.
Quann, E. E. & Adams, D. Impact on Milk Consumption and Nutrient Intakes From Eliminating Flavored Milk in Elementary Schools. Nutrition Today. 2013;48(3), 127-134.