Food Bank Cooler Program Keeps Milk Cold and Accessible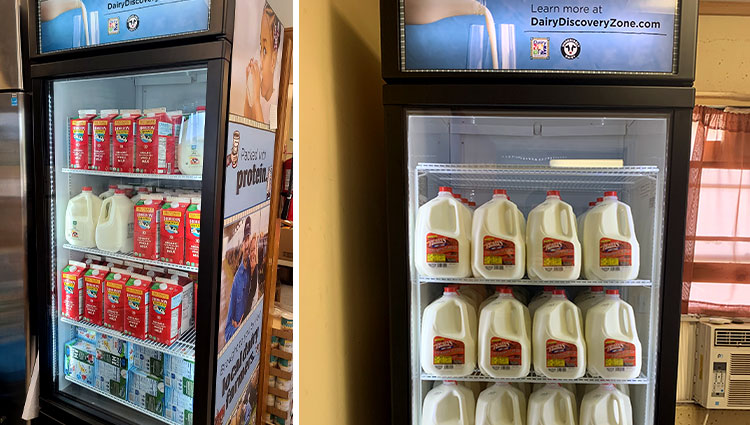 Around 54 million Americans may face hunger as a result of COVID-19, with more than ever before relying on the same network of local food banks. Across the nation, food banks have set up mass distribution sites to serve lines of people with anticipation for their services to remain high for the foreseeable future.
Milk has been one of the most requested but least donated items to food banks even before the pandemic, and now the need for access to nutritious dairy foods has increased twofold. To help fill the gap, Dairy MAX has looked for ways to make sure food banks receive enough dairy to feed those who need it and have the proper cold storage – which is often a challenge for food banks and pantries.
Now, through a new pilot program, Dairy MAX is working with local food bank networks to provide coolers that store more milk and other dairy foods at proper temperatures. By focusing on food banks in the Feeding America network with the ability to purchase a steady supply of dairy from local processors, the cooler program aims to make the biggest impact, getting the most dairy in the hands of families who need it.
"Our partnerships are focused on sharing resources and expertise to solve challenges – and food banks are at the top of that list," said Jennie McDowell, director of business development for Dairy MAX. "This is a growing sales channel for milk, and we are working to make sure it remains accessible to consumers who need it."
The 64-gallon coolers are wrapped with a design that features local dairy farmers and calls out dairy's essential nutrient package. Food banks will also receive resources like milk storage education materials, dairy recipes, nutrition information and social media content. Universities that have food pantries on campus will also be eligible for coolers, allowing Dairy MAX to create new partnerships and connect with Generation Z consumers.
Before getting the coolers, many food pantries weren't able to store proper amounts of milk due to space and storage limitations. "Because of this dairy cooler, I am able to stock and give out 80 gallons of milk each time we open our doors," said Amy Allibon from River Oaks United Methodist Church Food Pantry in Fort Worth, Texas. "Our clients are thrilled when they see gallons of milk in the cart as we take it to their car."
Dairy farmers have a long history of providing nutrition and fighting hunger within their local communities. The partnership between Feeding America and the dairy community has increased the availability of dairy foods in food banks nationwide by 56% since 2016.
"Dairy farmers are part of the fabric of our local communities," said Nova Schouten, dairy farmer and Dairy MAX board member. "We're proud to support the community, and I count it as a blessing to be a link in the chain providing quality milk to help feed our neighbors."
This year, Dairy MAX also partnered with trucking companies to move milk purchased through USDA's Coronavirus Food Assistance Program (CFAP). These efforts have helped distribute over 400,000 gallons of milk through food banks in the region to date.
Learn more about Dairy MAX's response to COVID-19.