Going the Extra Mile Delivering Milk to Those in Need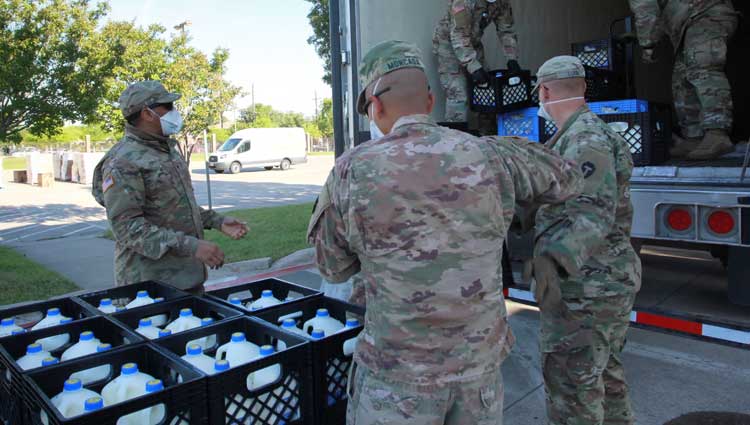 During normal times 1 in 7 Americans, about 15% of the population, rely on food banks for all or part of their food. Due to COVID-19 food banks are doubling the number of people they feed and anticipate demand for their services to remain high for at least five months. And with milk being one of the most requested but least-donated food bank items, the need for it has only grown.
When the USDA Coronavirus Food Assistance Program (CFAP) began purchasing surplus milk from distributors to help fill this gap, Dairy MAX looked for ways to ensure food banks received enough dairy to put milk in the hands of families who need it. The need for more cold storage and transportation solutions required creative partnerships.
As of June 12th, Dairy MAX has helped deliver an additional 79,780 gallons of milk to food bank mass distribution sites, a new service model to help meet demand by providing food boxes in centrally-located parking lots, by partnering with trucking companies for cold storage. The partnership began when Dairy MAX learned that Convoy, a digital freight network, was offering free transportation for truckloads of food being donated to Feeding America's network of food banks across the country.
"We heard about Convoy's efforts delivering donations across the U.S. to food banks and immediately thought of them as a partner that could help us provide dairy to families in need," said Mike Konkle, Dairy MAX CEO.
Through Dairy MAX's relationships with dairy processors and Convoy's shipping network, more than 56,140 gallons of milk have been delivered to North Texas Food Bank, Southeast Texas Food Bank and Houston Food Bank distribution sites feeding thousands of people every week.
Dairy MAX continues to grow this initiative of matching trucking partners to food banks across the eight-state region. Newest partners include FedEx Custom Critical shipping service, Flexport Trucking and Ryder. FedEx has been instrumental in servicing the North Texas area, while Flexport Trucking recently provided $10,000 in trucking costs to ensure milk will be part of donations through Creative Outreach, an organization that supplies food to pantries, churches and smaller nonprofits working to feed their local communities throughout Montgomery County, Texas. Ryder has provided a refrigerated trailer and box truck to allow the Food Bank of Central Louisiana to begin taking 24,000 gallons of milk per month from the CFAP program.
Dairy farmers have a longtime commitment to nourishing communities, which does not stop during a pandemic. The dairy community has donated over 31 million servings of milk to families in need through food bank efforts and The Great American Milk Drive over the last five years.
"Milk is one of the most requested items at food banks, and dairy farmers are committed to ensuring enough milk and dairy products get to those who need it," said Jim Webb, dairy farmer and Dairy MAX board second vice chairman. "We are proud to support mass distribution sites through these creative partnerships that combine our commitments to nourishing families."
Dairy MAX will continue partnering and expanding these efforts to other areas throughout the region to get milk in the hands of more people. To learn more about Dairy MAX's response to COVID-19 on behalf of dairy farm families, visit DairyMAX.org/covid-19-response.