Going for the Gold: the Dairy MAX School Breakfast Games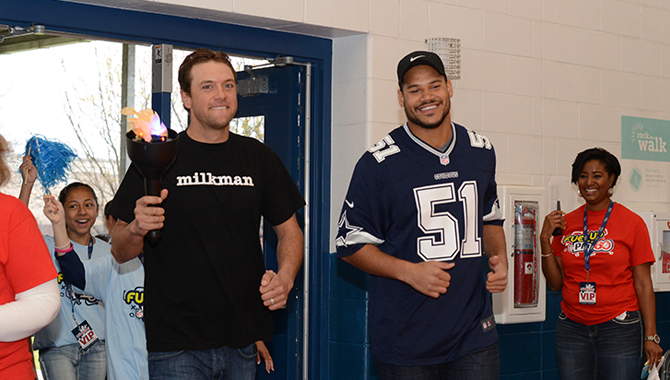 The breakfast that fuels students to go for the gold on the field and in the classroom continues to fuel demand for dairy thanks to your local dairy checkoff investment.
During National School Breakfast Week, Dairy MAX hosted the second annual School Breakfast Game events to highlight and celebrate the success of students from schools in the Houston, San Antonio and Midland, Texas areas who fuel their day with dairy and a healthy breakfast. The School Breakfast Game events set out to raise the bar on nutrition conversations, increase participation in school breakfast and increase physical activity in younger generations.
"The events are like a miniature, breakfast-style Olympic Games," said Gage Bonestroo, event co-host and dairy farmer from Clovis, New Mexico. "Students participate in events with lots of energy, a determination to succeed and a curiosity about good nutrition."
The events generated positive feedback from students and teachers including their interactions with the NFL players and dairy farmers. These events VIPs created a lot of excitement and included Dallas Cowboys Kyle Wilber, Houston Texans alum JJ Moses, Gage Bonestroo, Will and Lauren Collier and Pauline DeVos.
At the end of the week, more than 7.5 million people were reached through interviews and media work. Alyson Kirchner, vice-president of School Programs for Dairy MAX, Inc., contributes the success of the events to all dairy farmers and keeping them part of the conversation.
"Dairy farmers are represented well at every event. In fact, dairy is very strategically placed so it is the heart and soul of the event," said Kirchner. "It's all about building demand for their milk."
For farmers like Bonestroo, the big success isn't only driving present milk demand, but also making a difference in future milk consumption. "We get to make a difference in changing the perception of milk at younger ages," said Bonestroo. "That's a huge return on investment for farmers. We are creating milk drinkers in future generations of consumers."
Learn more about the School Breakfast Game Events and your local dairy checkoff investment at DairyMAX.org.