Healthy Pizza Parties Can't Be Topped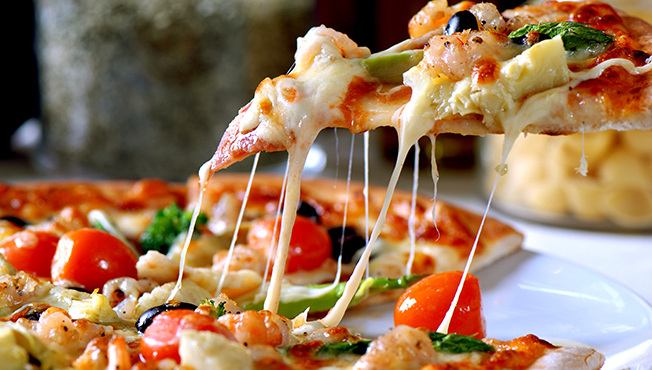 Pizza and healthy eating. Sounds too good to be true, right? It may come as a surprise, but pizza does have a place in a healthy lifestyle. Dairy MAX's health and wellness team is working to teach stakeholders how to make pizza a healthy option at the dinner table.
Why pizza? Amongst featured dairy recipes on Dairy MAX's consumer-facing website, DairyDiscoveryZone.com, pizza is one of the top hits. By focusing on the combination of consumer trends and healthy dairy lifestyle messaging, Dairy MAX can increase reach and engagements.
"Pizza is relatable and loved by everyone," says Lana Frantzen, Ph.D., vice president of health and wellness at Dairy MAX. "Our recipe, garden veggie pizza, shows that pizza can be healthy when using the right ingredients."
The online recipe features a variety of toppings to fit any palette, while also adding colors from fruits and vegetables. It's a great example of how to add fruits and vegetables to a kid-approved meal, while also gaining valuable nutrition information.
"All five food groups are used in pizza—grains, proteins, fruits, vegetables and dairy, all in one easy recipe," Frantzen says.
Beginning this spring, Dairy MAX will host cooking events highlighting pizza as a healthy option to stakeholders including physicians, dietitians, professors and food bloggers.
This year, Chef Jon Ashton is the chef creating new recipes and performing cooking demonstrations at events. As an advocate on media tours and Fuel Up to Play 60, Ashton regularly shares positive messages about the importance of dairy with health professionals, children and dietitians across the nation. Chef Ashton is currently working with the National Dairy Council on a new program to help make positive changes to the school food system.
"These events are a way to get people excited about cooking with dairy foods," Frantzen states. "We will bring health and wellness stakeholders together and Chef Ashton will take something that everyone loves and convey this year's message: pizza can be healthy."
After seeing the positive response from the pizza recipe on DairyDiscoveryZone.com, the Dairy MAX team decided to create more pizza recipes to inspire consumers to cook with dairy.
"Chef Ashton will customize a pizza for each city the events are held in to convey the culture through the recipe," Frantzen says.
Cooking events are planned in San Antonio, Dallas/Fort Worth, Houston, Austin and Oklahoma City. Each pizza recipe will be unique, providing different twists on pizza which everyone can relate to. Cooking as a family is important to Chef Ashton, as he grew up cooking with his grandmother. The new recipes will also incorporate ways to get family members cooking together.
"Pizza can be something parents feel good about serving as an easy dinner solution that can also be a nutrient-rich choice," Frantzen says.
Dairy Max also intends for the message to reach beyond the events' attendees. To grow the audience, all attendees, particularly bloggers, are encouraged to share key learnings, photos and videos using the Dairy Amazing hashtag (#DairyAmazing.) The health and wellness team's goal is to extend the hashtag beyond attendees and become a trend on social platforms.
"Our success measurement is through the amplification of the message on social media," Frantzen states.
#DairyAmazing is used for many other posts across all program areas of Dairy MAX. When searching the hashtag on Facebook, Twitter and Instagram, users will find recipes, photos, blogs and other information on the "amazing-ness" of dairy foods.
Social media is not the only gauge of success, Frantzen states. True success is achieved when stakeholders share the information they learn, particularly around dairy foods, with their patients, clients and readers.
Dairy MAX is looking forward to expanding the partnership with Chef Ashton following the cooking events this spring.
"As back-to-school time approaches, more events will be planned as well to highlight pizza as a weeknight dinner idea," Frantzen says.
Look for Chef Ashton's recipes featured on the recipes section of DairyDiscoveryZone.com in the coming weeks.