Helping Food Banks and Farmers Keep on Trucking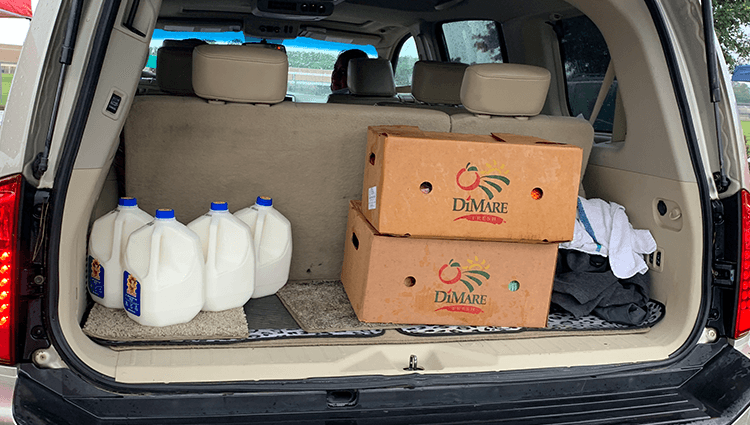 Around 54 million Americans may face hunger as a result of COVID-19, with an extra 17 million people now relying on the same network of local food banks, according to Feeding America. Even before the pandemic, milk was one of the most requested but least donated items in food banks, and now the need has doubled.
At the same time, shutdowns have limited business for restaurants and other hospitality venues, creating a steep drop in bulk sales for foods like dairy.
People need milk. Farmers need to sell it. But early in 2020, the supply chain was broken.
The USDA quickly introduced  the Coronavirus Food Assistance Program, offering grant money to
purchase those surplus dairy products for food banks, but the challenge was in actually getting it done: connecting processors with the right distributors, finding a safe way to transport the perishable food, and figuring out how to store far more food than  these nonprofits were used to offering.
We Helped Forge New Links in the Supply Chain
Dairy MAX stepped in to create partnerships to help with cold storage and transportation, ensuring food banks received and distributed as much dairy as possible to families in need.
When we learned that Convoy – a digital freight network – was offering free transportation for food donated to Feeding America food banks, we partnered with them and others – such as FedEx Custom Critical, Flexport Trucking and Ryder – to deliver milk the final mile.
"We heard about Convoy's efforts delivering donations across the U.S. to food banks and immediately thought of them as a partner that could help us provide dairy to families in need," said Mike Konkle, Dairy MAX CEO. Through a new pilot program, Dairy MAX is also working with local food bank networks and university food pantries to provide more than 60 coolers across the region to store more milk and other dairy foods at proper temperatures. We're also offering educational materials about proper milk storage, dairy recipes, nutrition information and social media content.
"Because of this dairy cooler, I am able to stock and give out 80 gallons of milk each time we open our doors," said Amy Allibon from River OaksUnited Methodist Church Food Pantry in Fort Worth, Texas. "Our clients are thrilled when they see gallons of milk in the cart as we take it to their car."
Thanks to these partnerships, we've helped distribute 440,000 gallons of milk so far to families in need through food banks in the region.