How Farmers Told Their Story in 2018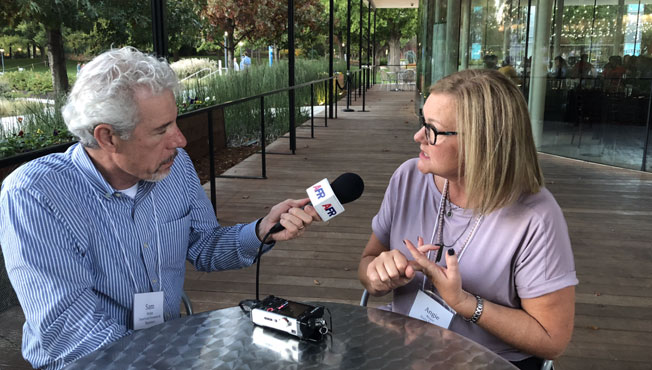 We hear it time and time again that consumers want to know where their food comes from. We live in a world where information is constantly at our fingertips, whether it is accurate or not. The rise of social media has forced the agriculture industry to defend themselves against negative and untrue stories about their practices. But it also gives farmers a unique opportunity to share their side of the story.
The reality is that consumers are three to four generations removed from a farm, and 67 percent of them want to know more about food production. People want to meet farmers, and it is our responsibility to tell our story before anyone else does. Dairy farmers have an amazing story to tell, and many of them across the Dairy MAX region have connected with consumers to increase trust and transparency in their products.
Highlighting Breakfast From Farm to Table
Ashley Edstrom of Sugar Hill Dairy ate breakfast with students in Golden, Colorado and shared how it helps get busy days started on the right foot. She also spoke about her passion for dairy farming and how she works hard every day to provide nutritious dairy for them to eat and drink.
Farmers in Colorado and Texas gathered at elementary schools in their area to celebrate the most important meal of the day. Each year during National School Breakfast Week and National Nutrition Month, Dairy MAX hosts the Fuel Up to Play 60 Breakfast Games, an interactive Olympic-style event, to highlight breakfast.
Students attending Breakfast Games in Bedford and Houston, Texas also got the chance to meet dairy farmers. Mark Sustaire of Sustaire Dairy shared what life on his dairy farm looks like, and how he takes care of his cows to make sure they're comfortable every day. David Jackson of Bentwood Dairy educated students on the nutritional goodness of dairy foods and how they get from his farm to their plate.
Honoring Excellent Support of Dairy in Schools
Earlier this year, Dairy MAX recognized Fuel Up to Play 60 program advisors through Excellence Awards. Local farmers attended and shared their commitments to sustainability on the farm, living healthy lifestyles and how dairy plays a huge role in both. Syke and Jantsje Talsma of Talsma Dairy, Billy Lasater of Lasater Dairy and Scott Boening of Boening Brothers Dairy shared personal experiences to encourage continued support of dairy in schools.
Dairy Farmer Presence at Texas Rangers Game
Dairy MAX kicked off June Dairy Month this year by welcoming farm families to watch the Texas Rangers take on the Houston Astros at Globe Life Park in Arlington. Troy Hemmingsen of Hemmingsen Dairy and his family provided cows for a milking contest between players from both teams before the game started. Hemmingsen had the chance to share information about dairy cow breeds and cow care with the crowd.
The support for dairy farmers did not stop there. Throughout the evening, around 400 farmers in attendance were asked to stand and be recognized for their hard work and dedication to providing delicious and nutritious dairy foods for our table.
Reaching Health Professionals
Not only can dairy farmers influence the average consumer by telling their farm story, they can also make a difference in the health community. Dairy MAX's health and wellness team puts on events every year to educate health professionals, physicians, dietitians and influencers on the benefits of dairy. Farmers play a big role in these events by allowing attendees to meet a dairy farmer and learn more about where dairy foods come from.
Dairy MAX's Pizza My Heart event brought in key health professionals from the Oklahoma City area to learn how pizza fits in the diet through MyPlate. Angie Meyer of M6 Dairy attended and shared what goes into making the cheese we all enjoy on pizza. She also emphasized the health benefits.
"I want them to go back to their clients and patients and share that dairy is an essential part of your diet," says Meyer.
Tara and Daniel Vander Dussen of Rajen Dairy were part of Dairy MAX's fourth annual Dairy Amazing Symposium, which gathered over 50 health professionals for the latest dairy research and hands-on culinary experience. The Vander Dussens added to the experience by sharing a look into life on a farm and answering questions about dairy farming.
National Farmer's Day and Beyond
With growing consumer interest in meeting farmers, the dairy industry shined on National Farmer's Day with opportunities to connect. Partners rallied to show support on social media, events were held across the country and farmers had a platform to tell their story to a diverse audience.
Norm Dinis of Empire Dairy and his family were featured by Pizza Hut in a video thanking the dairy farmers who produce cheese for their pizzas. Dinis and other farmers from across the country shared their commitment and love for their cows.
For Tara Vander Dussen, telling her story meant connecting with consumers in several ways. She attended the Grand Central Food Festival in New York City on National Farmer's Day with Undeniably Dairy, where they passed out samples and answered questions from hundreds of consumers.
Vander Dussen has also been the subject of an article and podcasts, focusing on her role on the farm and in her community. Thought Catalog, a lifestyle website, wrote about her job as a mom, environmental scientist and fifth-generation dairy farmer. Her episode on the Nutrition Diva podcast touched on the importance of keeping an open line of communication with consumers, which was also featured on Oprah's Master Class podcast. Click here for the article and podcast.
"We know that consumers are more disconnected from agriculture than ever before," says Vander Dussen. "But the more consumers I talk with the more I realize how desperately they want to know about their food and how it was produced. By engaging with consumers, we are opening the line of communication and hopefully giving them a better understanding of dairy farming."
Earlier this year, Dairy MAX made direct consumer connections by hosting "Milk Breaks" at Colorado State Fair, New Mexico State Fair and the State Fair of Texas. Consumers had the chance to swing by for a free pint of milk and conversation with local dairy farmers. Participating farmers were Will McConnell of Rainbow Park Dairy, Dale Jones of Jones Dairy Inc., Syke Talsma of Talsma Dairy and Kyle Humphrey of Humphrey & Humphrey Dairy.
To learn more about how Dairy MAX is committed to providing farmers the tools and resources needed to tell their story, click here.