Fuel Up to Play 60 is the nation's largest in-school wellness program, designed to help you meet school wellness goals. It can work on its own or with other programs you're currently doing, with free resources and rewards systems to make implementation easy.
Focus: Empowering students to lead their schools in fueling up with nutrient-rich foods like low-fat and fat-free dairy, fruits, vegetables and whole grains; and actively playing at least 60 minutes every day.
Role models: Through Fuel Up to Play 60, Dairy MAX provides NFL star-power – such as Dallas Cowboy Conner Williams, Denver Bronco Justin Simmons, Houston Texan David Johnson and New Orleans Saint Cam Jordan – to get students, Program Advisors and whole schools excited about healthy living.

How It Works
An adult (or adults) – often a PE teacher, health teacher or wellness coordinator – goes to the Fuel Up to Play 60 website to sign up as the school's Program Advisor.
Program Advisors then work with student teams to complete Touchdown steps on the Fuel Up to Play 60 website.
Schools can browse a "Playbook" to choose from a list of activities or "Plays" focused on Healthy Eating and Physical Activity – or students can invent their own Plays. Student Teams then plan, promote and execute the Plays.
Schools have access to free resources and tools, and can participate in optional contests for cool prizes.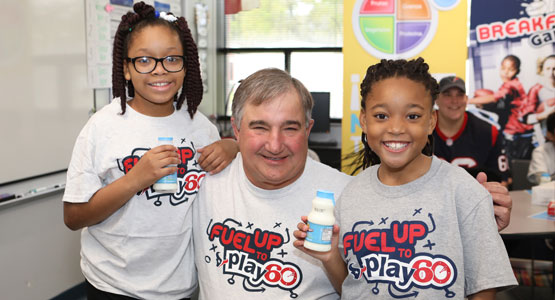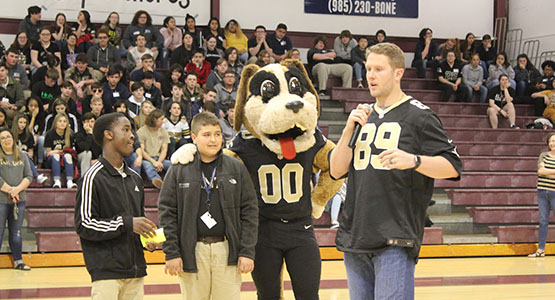 Need Help Funding Your Fuel Up to Play 60 Efforts?
You can do Fuel Up to Play 60 with nothing more than imagination and passion, but if you want to apply for funds, competitive grants are available. Go to the Fuel Up to Play 60 website to apply for a grant. Your Dairy MAX School Wellness Consultant can help you with your application – just be sure to contact him or her at least a month ahead of the deadline.