Hutterite Dairy Farmers Donate 12,000 Gallons of Milk to Montana Food Bank Network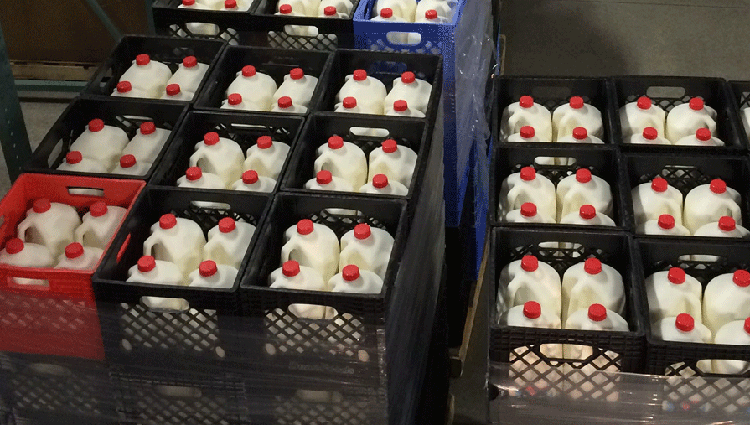 Working together is not a new concept for dairy farmers. Their passion for feeding people, caring for their animals and protecting the land are things they have been doing for generations, and are only accomplished through hard work in a family business. When schools and restaurants began closing due to the COVID-19 pandemic, this took on a whole new meaning when the Hutterite colonies of Montana organized a plan to donate 12,000 gallons of milk to Montana Food Bank Network.
Krista Lee Evans, Montana Milk Producers Association representative working on behalf of the 29 colonies, says the Hutterites wanted to do the right thing for those in need. The milk donations started this week and will be distributed by Montana Food Bank Network to food pantries across the state over the next month.
"The Hutterite colonies know it's important at all times, especially in times of need like we're facing right now, that people who need healthy protein have access to milk," said Evans. "The Hutterite farmers and others who work to supply milk to the people of Montana are making sure it gets in the hands of those in need."
When leaders of the Hutterite colonies recognized the need to get milk to their community, it took less than two days for them to convene key partners to help make it happen. Cargill Animal Nutrition offered to cover costs for processing the milk and Meadow Gold Dairy, one of two companies processing milk in Montana, paid for packaging and delivery.
Ken Bryan, dairy technical specialist for Cargill, shared that the relationship between his company and the Hutterite colonies goes back over 30 years. When they approached him about Cargill covering costs of processing the milk, it was a no-brainer.
"This is what we're about," said Bryan. "We rely on the sustainability of farmers and ranchers across the country, and they rely on their local communities."
The Hutterite's milk donation will touch communities across Montana experiencing hunger, especially in this time of crisis. Montana Food Bank Network, the only state-wide food bank in Montana, distributes to food banks, pantries, senior centers and schools.
And according to Bill Mathews, chief development officer for Montana Food Bank Network, they are moving three times the amount of food than normal. The milk donation from Hutterite colonies will make a large impact addressing hunger and nutrition in Montana communities.
"Having a milk donation like this is really key," Mathews said. "It's not a common thing that food banks get on a regular basis and makes a huge difference for providing nutrition."