Kicking Off The School Year by Promoting Breakfast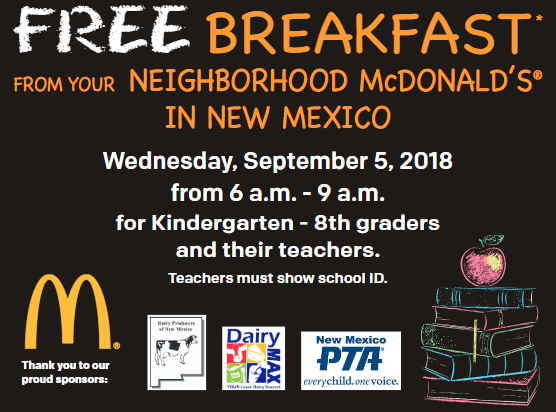 Dairy MAX kicked off the 2018-2019 school year by partnering with McDonald's and Dairy Producers of New Mexico to promote the link between a nutritious breakfast and success in school. Free breakfast was provided to students kindergarten through eighth grade at over 100 participating McDonald's restaurants in New Mexico. The free breakfast promotion highlights the importance of breakfast and including wholesome milk in the diet.
Students and teachers were given the choice of Egg McMuffin or Egg White Delight McMuffin, apple slices and a beverage—low fat white milk, orange juice or apple juice. Coupons for a free happy meal and low fat white milk were also handed out to encourage families to visit McDonald's again and choose milk when they do so.
"We value our on-going partnership with the McDonald's restaurant owners in New Mexico and appreciate them fueling students with a well-balanced breakfast that includes milk to start their day," says Gretchen Crichton, manager, business development for Dairy MAX.
McDonald's is a proud partner of the dairy checkoff, and has worked with dairy checkoff scientists to create more dairy-focused items on their menu. The Egg White Delight McMuffin, one of the free breakfast offerings, is now made with larger sharp white cheddar cheese slices than previously used. Partnerships with companies like McDonald's help expand the reach of dairy products through product innovation.
Not only did the free breakfast promotion put more dairy in front of more consumers, but it was also an opportunity for Dairy MAX to share the event on Facebook. By advertising to Facebook users in the New Mexico area, Dairy MAX created positive conversation around the event and the importance of breakfast. The post generated 714 interactions, 98 comments and 670 shares.
To learn more about Dairy MAX events and programs, click here.