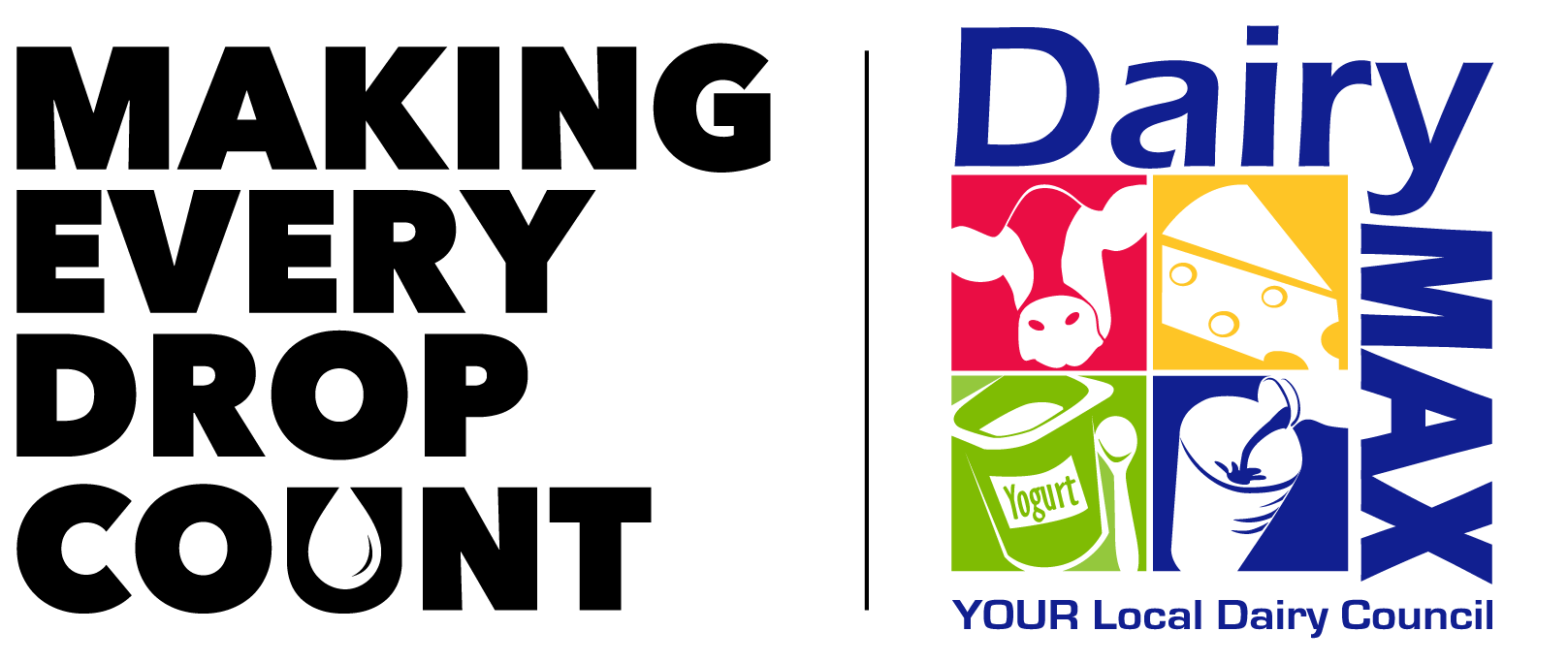 'Growing sales and building trust through research and promotion' 
Every single drop of milk begins at dawn and doesn't stop until well after dusk. Every drop represents a commitment, a tradition, a calling if you will, to work unbelievably hard to nourish this country.  
A commitment to honor the past while looking to the future. Every drop of milk represents a dairy farm. A farm that's often been in the same family for generations.  
That's why, at the dairy checkoff, we believe every drop of milk is essential. And it doesn't matter if that drop becomes a glass of milk, or cheese, or yogurt, or ice cream, or something completely new and innovative that the world hasn't seen yet; it's all still essential.  
Making Every Drop Count is a federation-wide effort to raise awareness of the dairy checkoff, its programs, and results with farmers who invest in the checkoff. It's Dairy Management Inc. (DMI), National Dairy Council, state and regional promotion organizations like Dairy MAX, and the international marketing affiliate, the U.S. Dairy Export Council, working collaboratively to show the power of the full 15-cent impact of farmers' investment to dairy checkoff. 
The national dairy checkoff began in 1983. The checkoff was created by dairy farmers to build trust and sales of dairy through product promotion, research, and education. And, just as dairy farming and the industry have evolved and grown over the past 40 years, so has the checkoff. 
Checkoff work for dairy farmers can be divided into promotion, research, and education work areas. Through innovative dairy products, nutrition, food safety research and partnering with various retail and foodservice, work is done to increase the sale of dairy foods and ingredients. Checkoff delivers transparency and information to help build trustworthy relationships through educating influencers and consumers about dairy's role in a balanced diet. Resources from the checkoff also provide dairy farmers with the tools to continue to share their farm stories. 
"We advocate with purpose – growing sales through innovative research and partnerships and building trust with consumers across the country on behalf of our dairy farmers," says Kaci McClatchy Creel, vice president of corporate communications. "We are proud to represent over 900 dairy farm families across 8 states. Every one of them is our reason why we work to make every drop count."   
Making Every Drop Count details will appear in industry magazines, websites, and social media platforms. Dairy farmers will be front and center in telling this important story as they are the ones who invest in, lead and direct the checkoff priorities and strategies. 
We're here to make sure dairy will always matter. With research, innovation and marketing programs, we work on behalf of dairy farmers to make dairy relevant in today's ever-changing environment. To help ensure the results of dairy farmers' hard work are valued today and for years to come.  
It's a partnership with one goal in mind: Making Every Drop Count. 
###
About Dairy MAX
Founded more than 40 years ago, Dairy MAX is one of the leading regional dairy councils in America – representing more than 900 dairy farmers and serving communities in eight states: Colorado, southwest Kansas, Louisiana, Montana, New Mexico, western Oklahoma, Texas and Wyoming. A nonprofit organization, Dairy MAX is part of a nationwide effort to promote American agriculture, support dairy farming and drive impact for every dairy farmer. The organization operates five audience outreach programs: business development, consumer marketing, health and wellness, industry image and relations and school marketing. For more information about Dairy MAX and its team of experts, visit DairyMAX.org. Dairy resources and delicious recipes are available at DairyDiscoveryZone.com.