More Dairy on Restaurant Menus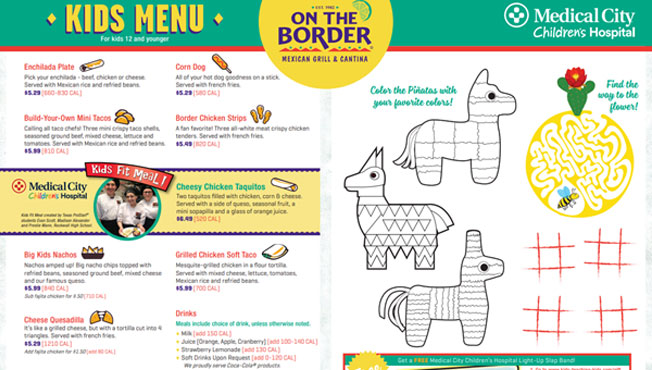 Putting more dairy in front of kids doesn't just happen at the school level through Fuel Up to Play 60. The Dairy MAX business development team has been working with Medical City Children's Hospital and their Kids Fit Menu program to increase the use of dairy in regional and national restaurant menus. This partnership has created opportunities to access key restaurant brands and influence dairy, specifically milk, as important choices on their menus.
Since 2013 the Kids Fit Menu program has encouraged healthier dining options for kids in restaurants. Kids Fit Menu is guided by registered dietitians and expanded from Medical City Children's Hospital's "kids teaching kids" initiative to help families get better nutrition at home. High school culinary students develop menu items within specific parameters and if chosen, earn money for their school's culinary program and a permanent spot on the Kids Fit Menu.
The Dairy MAX health and wellness team has engaged with Kids Fit Menu dietetics staff to provide resources and educate on the nutritional benefits of dairy. Since the partnership began, two restaurant chains have been influenced to add milk as a beverage choice and increase items with dairy on their kids' menu. On the Border added six meals with cheese at 145 locations and La Madeleine will add three meals with yogurt at 86 locations.
Gretchen Crichton, manager, business development for Dairy MAX, serves on the Kids Fit Menu Advisory Committee alongside restaurateurs and community leaders.
"The Kids Fit Menu is a great entry point to influence the inclusion of milk as a beverage option on kids' menus," says Crichton. "This partnership gives us a seat at the table with restaurant brands and culinary students to help educate on the benefits of dairy."
This partnership is one way Dairy MAX aligns a youth wellness strategy with industry partners. The business development team continues to support programs that help build trust and sales in dairy. Click here to learn more about Kids Fit Menu.