New Platform Will Provide Schools More Dairy Solutions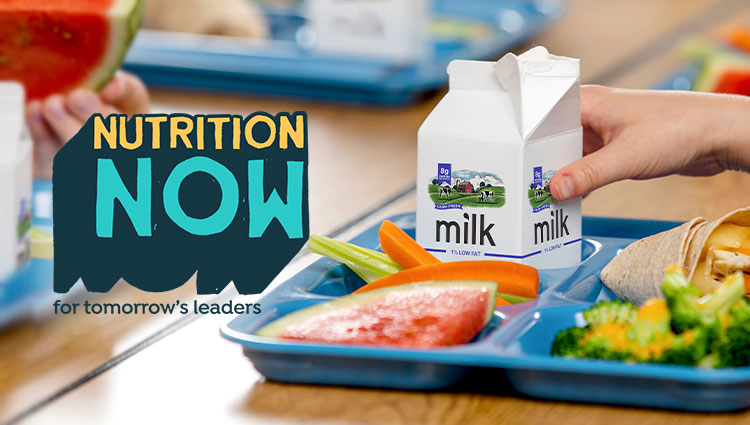 Food insecurity can make it difficult for students to learn. Equal access to nutrition helps them achieve academically – and one of the best sources of nutrition for tomorrow's leaders is dairy. Dairy farmers have long recognized this need and have been committed to youth wellness for decades. To continue their efforts, Dairy MAX recently launched the Nutrition NOW platform as a full-service solution that offers schools expertise and opportunities to increase dairy consumption.
"During these challenging times it is so important to be innovative and effective as we work to promote dairy," said Annelies DeRuyter, dairy farmer and Dairy MAX board member. "As dairy farmers, we are passionate about feeding the next generation, so I was excited to hear about the upgraded program, Nutrition NOW, which will help schools serve more of the nutritious dairy that kids need."
With the COVID-19 pandemic making it challenging for local schools to package and distribute school meals, Nutrition NOW helps provide schools the resources needed to nourish students with dairy foods. Dairy MAX's team of School Wellness Consultants has been leveraging relationships with school nutrition teams to better understand the uncertainties around re-entry plans and school feeding.
"This school year, we are focusing on getting more milk and dairy in the hands of students to provide the greatest return for our dairy farmers," said Alyson Kirchner, vice president of school marketing for Dairy MAX.
Nutrition NOW offers expertise, marketing and funding to help schools implement a variety of meal service programs – including Grab and Go Breakfast, Bulk Milk, Meals in the Classroom, Smoothies, Yogurt Parfaits, High School Coffee Bars, Afterschool Meals and Summer Feeding. Eligible schools interested in funding will go through an application process in the fall and spring, which aligns with the traditional procurement cycle for school nutrition programs.
"School nutrition programs are on the frontline of fighting childhood hunger and ensuring all students have access to nutritious foods, like dairy," said Kirchner. "Nutrition NOW provides them with expert support, customized resources and start-up funding to help grow their meal service and feed more kids. Additionally, we've strengthened the Nutrition NOW grant evaluation process to determine where our dairy farmer funds are best invested."
In addition to Nutrition NOW, Dairy MAX is also working with GENYOUth and other partners to provide emergency grants that support serving dairy through meal delivery and curbside feeding locations. To date, these grants have helped 337 local schools serve over 440,000 meals each day.
Dairy MAX is also providing resources to help schools promote dairy science and share the farm-to-table story. New Farm-to-School Curriculum lessons and activities are available online and will be included with Fuel Up to Play 60 (FUTP 60) kits distributed to schools throughout the region. The FUTP 60 program will continue to be a connection point promoting the importance of nutritious dairy foods and physical activity. With the rise of e-learning, Dairy Checkoff helped create the FUTP 60 Virtual Homeroom as a digital resource to engage students, parents and educators about topics like health and wellness, dairy farming and sustainability. 
See how else Dairy MAX is providing a one-stop shop of dairy solutions for schools.