NFL Stars Help Celebrate Playground Makeover in Pasadena ISD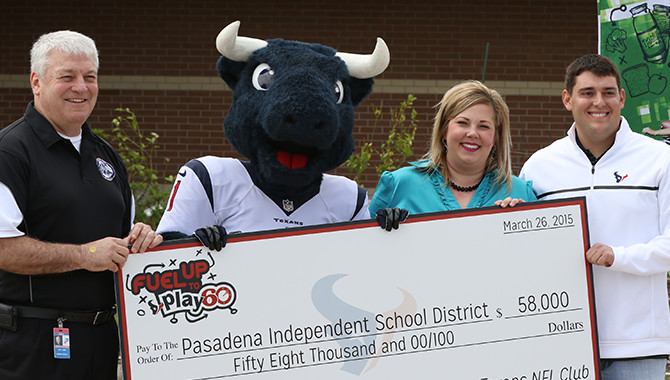 Last Spring, Pasadena ISD schools received a $58,000 grant from Dairy MAX and the Houston Texans to expand their breakfast programs and jazz up their playgrounds with new stencils, giving their students more access to nutrient-rich foods at breakfast and increasing opportunities for active learning. 
Six Pasadena ISD schools were chosen to receive playground stencils, and Pam Tevis, the district's physical education coordinator, organized a big "paint day" for each school by involving students, parents and teachers. 
Houston Texans mascot Toro and placekicker Randy Bullock made a very special appearance at Turner Elementary to kick off the new stencils and breakfast-expansion project at the school. 
Today, each school has created its own active learning curriculum around the stencils, and the students love using the stencils to engage their bodies as well as their minds at recess. Some of the schools even made sure the students could access the stencils on the weekends. 
Dairy MAX thanks the Houston Texans and Pasadena ISD for taking such incredible strides in improving the wellness environment for so many students in the Houston area.
Watch the Fuel Up to Play 60 playground stencils in action with Bullock and Turner Elementary students.