Physical Education Teachers from Denver Public Schools Receive Flag Football Training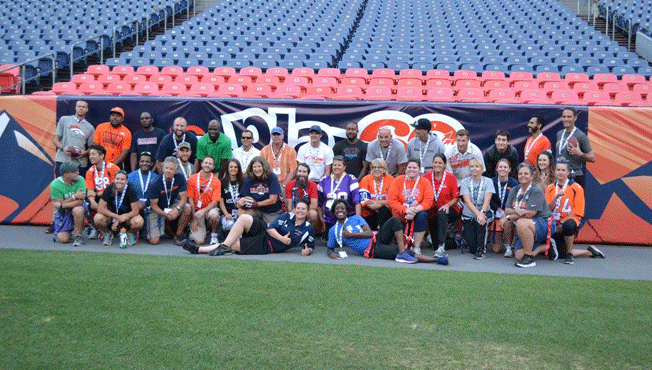 Last week, over 50 PE teachers from Denver Public Schools attended a NFL FLAG Essentials training session at Sports Authority Field at Mile High. This training is part of the NFL FLAG Essentials program, which provides resources for PE programs in schools across the country in partnership with the NFL, USA Football, GENYOUth & Fuel Up to Play 60. During the training, teachers learned about how flag football can get their students to be more physically active. The in-person training included classroom and on-field sessions and provided teachers with ways to use NFL FLAG Essentials Kits in their PE classes this school year.
"The experience has provided our physical educators was a once in a lifetime professional development opportunity," said Jesse Weber, Physical Education Instructional Curriculum Specialist for Denver Public Schools. "Our physical educators were able to learn about the new SHAPE AMERICA certified Flag Football curriculum, and practice lesson plans on Sports Authority Field at Mile High Stadium - the lessons focused on continuous movement opportunities for our students, as well as providing ways to analyze student cognition on game strategy and teamwork."
The NFL FLAG Essential program started a few years ago, the NFL and GENYOUth and their partners developed a turn-key approach to the crisis in physical inactivity by supporting America's PE teachers with resources to help students build a foundation for healthy, lifelong physical activity through football. NFL FLAG Essentials Kits, which include footballs, flag belts, posters and a PE curriculum designed by SHAPE America for elementary and middle school students, allow for students to get active and learn the basics of football in a fun environment.
During the first year of the program, Kit demand was high and the partners have expanded the resources to help educators support physical activity needs before, during and after-school.
By the end of this year, the program will be implemented in approximately 8,500 schools nationwide, including in all 32 NFL club markets, and reach more than 4 million students
To date, more than 1,500 PE teachers have received in-person NFL FLAG trainings
As part of the program, PE teachers from Denver Public Schools were selected to take part in a flag football training led by SHAPE America with the support of local dairy farm families, Denver Broncos, Fuel Up to Play 60, and NFL FLAG representatives.
In addition to helping their students become more active through flag football, the PE teachers in attendance also learned about the Fuel Up to Play 60 program, which will further help the students in their schools achieve their health and wellness goals.
"Fuel up to Play 60 encourages students to lead changes in their communities to live healthier lifestyles by fueling up with the right foods, including dairy, and participating in at least 60 minutes of physical activity each day," Nicole Croy, Fuel Up to Play 60 Relationship Manager for Dairy MAX told the PE teachers at the training. "The program builds future leaders and gives students the opportunity to learn important communication and life skills. The NFL Flag kits and training is another great Fuel Up to Play 60 resource that will help schools offer more physical activity."
The training with Denver Public Schools was a highlight event for Croy -  it culminated all of what makes the Fuel Up to Play 60 program so impactful; many organizations coming together to support the program and our passionate teachers and students. Croy is continually inspired by the dedication these teachers have for their student's health and wellbeing.
If you would like more information on getting Fuel Up to Play 60 implemented in your child's school, visit FuelUptoPlay60.com!