Pizza Hut and Dairy MAX Partner on #DairyAmazing Event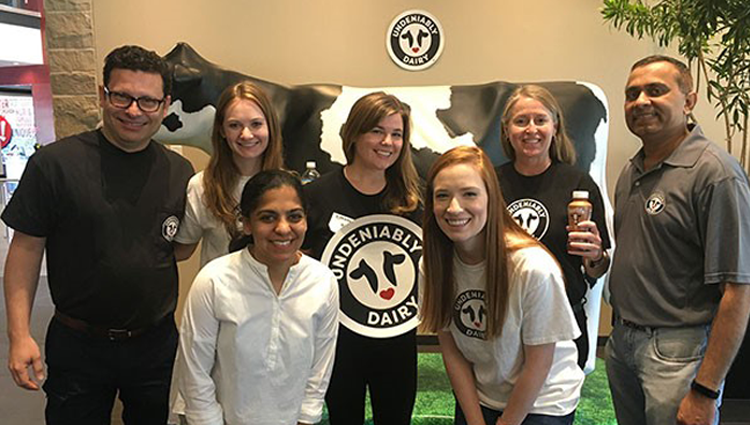 Pizza Hut Headquarters in Plano, TX got a little "cheesier" on June 13th to kick off National Dairy Month. In partnership with Dairy MAX and Dairy Management Inc. (DMI), Pizza Hut hosted over 100 employees from Pizza Hut U.S., Pizza Hut International and KFC International teams to foster engagement, interest and love for dairy. Dairy MAX supported the event with interactive elements to help employees learn more about dairy farmers and products.
Employees had the opportunity to milk Bella the Animatronic Cow, play educational dairy games, hop in a photobooth to transform into pepperoni on a pizza slice and sample various milks. Dairy MAX messaging and hashtags were amplified throughout the event on social media, and the event was also promoted through Pizza Hut websites, newsletters and emails.
Dairy checkoff partnerships with Pizza Hut and other global companies like Domino's, McDonald's, KFC and Taco Bell make it possible to advance product innovation and increase sales on behalf of dairy farmers. Last year Pizza Hut started serving 25% more cheese on their pizzas, requiring an additional 150 million pounds of milk annually. The partnership has also branched outside of the country, growing U.S. cheese sales by nearly 30% at Pizza Hut Asia Pacific locations.
Embedding checkoff employees at Pizza Hut has helped create new dairy product innovations and get them to market faster. Nitin Joshi, vice president of product development for Dairy Management Inc., sees value in connecting Pizza Hut employees with dairy farmers.
"Partnering with Dairy MAX for events like this one helps Pizza Hut employees understand what really happens on a dairy farm," Joshi said. "They had a chance to interact with checkoff staff to learn more about farmers, milk and dairy products."
Pizza Hut hosted several other dairy-focused events to celebrate the farmers behind delicious dairy products, totaling over 500 employees engaged at the events throughout National Dairy Month.