School Breakfast Events Put Dairy Front and Center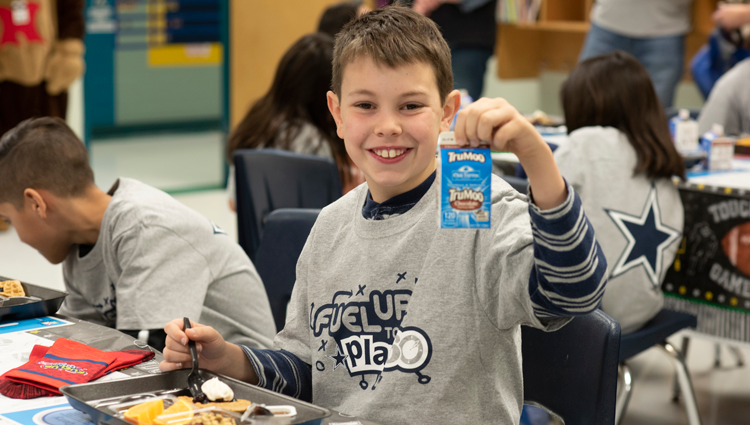 Dairy MAX entered its fifth year celebrating National School Breakfast Week by hosting events in key markets throughout the region. This week is focused on raising awareness of school breakfast and its importance in providing the fuel kids need to focus on learning. It's no secret that breakfast is the most important meal of the day, and the best opportunity for school-aged children to choose dairy. 
Dairy MAX created the Fuel Greatness Breakfast Games in 2015 to bring the importance of school breakfast to life through local event activations, as well as directly support the National Fuel Up to Play 60 Fuel Greatness Campaign. The tournament-style events are held at elementary schools engaged in Fuel Up to Play 60. Since then, physical activity, healthy food and celebrity appearances are a few things that are offered to students at these events. They also get the opportunity to interact with farmers and professional football players over a jug of milk, which makes connections about where dairy comes from and how it's important for growing strong.
Although Dairy MAX is no stranger to participating in National School Breakfast Week, criteria for schools to be chosen for Breakfast Games events was recently changed to include a contest. This change has promoted greater participation in the Fuel Up to Play 60 program while increasing average daily participation (ADP) in school meals. To increase effectiveness of the Breakfast Games even further, Dairy MAX's team of school wellness consultants focus on promoting the Breakfast Games contest in three targeted districts within key regional markets. As a result of this strategy, during the 2019 contest period over 100,000 additional school meals were eaten across the participating districts.
Alyson Kirchner, vice president, school marketing, shares that this contest strategy has generated incentive for schools to increase school meal and milk consumption.
"Elevating Breakfast Games to a contest was an effort to maximize the dairy farmer's investment," says Kirchner. "It has helped generate results by driving breakfast participation to directly impact fluid milk consumption."
This year Dairy MAX focused on Albuquerque Public Schools, Northside ISD in San Antonio and Fort Bend ISD in Houston, Texas. During the contest period, these districts generated sales of over 42,000 pounds of milk, which is a 10% increase from prior year sales. An elementary school from each district won Breakfast Games events and spent a day learning about the importance of healthy breakfast and physical activity.
Dairy MAX kicked off at Wherry Elementary in Albuquerque for the first-ever Breakfast Games in New Mexico. Dale and Susie Jones of Jones Dairy Inc. in Veguita, New Mexico joined students during breakfast and cheered them on during the games. Students were also surprised by Dallas Cowboys Defensive End Tyrone Crawford, who shared the importance of dairy in his training routine.
In San Antonio, students at Wanke Elementary won a visit from Joe Looney, offensive lineman for the Dallas Cowboys. Looney spoke to over 700 students about the importance of dairy, especially at breakfast.
The final Breakfast Games event for 2019 took place at Ridgemont Elementary in Houston where D.J. Reader, nose tackle for the Houston Texans and Fuel Up to Play 60 Ambassador, joined students for the day. Other partners included Texas Hunger Initiative, No Kid Hungry, United Healthcare and the Playworks Program. Preston DeJong of Horizon Dairy in Hico, Texas shared his farm story and interacted with students during the games.
To further amplify the positive dairy and school meals messages presented at the Breakfast Games, local media outlets are invited to attend each year to cover the events. As a direct result of the three 2019 events, 23 different news stories including breakfast or nutrition messages were issued by print, broadcast and online media during the 2-week period in which the events occurred. Combined, these stories had total reach of 2.9 million people.
Dairy MAX wrapped up National School Breakfast Week in Louisiana with events aimed at increasing breakfast participation. The Louisiana Breakfast Challenge was open across the state from October 2017-2018. Elementary, middle and high schools who saw the highest increase in school meal participation won breakfast at the Governor's mansion and Fuel Up to Play 60 Fuel Greatness pep rallies. Partners included No Kid Hungry, Department of Education and Louisiana State Governor's Office.
Schools increased meal participation to win Fuel Greatness pep rallies, which resulted in an increase of over 2,000 pounds of milk sold. Albany High School and St. Amant Middle School were visited by New Orleans Saints players Josh Hill and Cam Jordan.
Putting dairy front and center is always a priority, but emphasizing breakfast is an opportunity for Dairy MAX to make more impact in the school environment. Participating in events like Breakfast Games and the Louisiana Breakfast Challenge makes it possible to increase fluid milk sales through the Fuel Up to Play 60 program. Click here to learn more about Dairy MAX youth wellness programs.