Schools Shut Down. School Meals Didn't.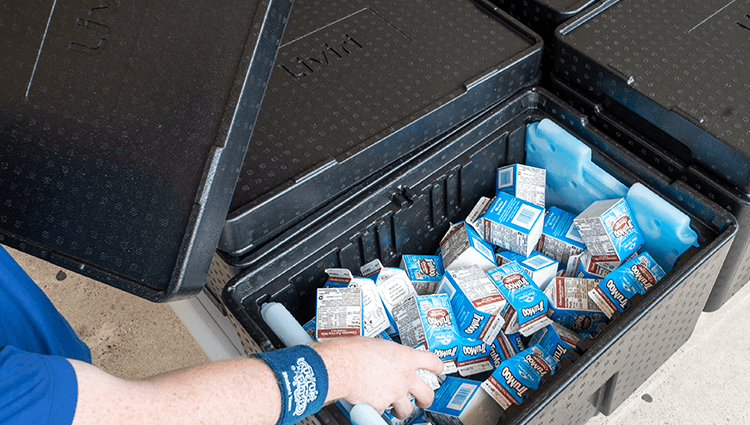 The abrupt shutdown of schools due to COVID-19 led to huge changes for everyone: children attending school from home, struggling to pay attention to a teacher on a screen; parents trying to juggle their jobs with homework help and supervision.  But the shift some people might not think about is the food. Locally, 7.4 million children rely on school meals, and of those, 80% depend on free and reduced prices. If they aren't in class – and especially if their parents have been laid off or furloughed – they could go hungry.
That problem may be temporary, but it also threatens long-term consequences for our entire food system if local farms go under because they are left with truckloads of food they can't sell.
Dairy MAX Jumped Into Action
We immediately began focusing on ways to keep the supply chain running from dairy farms to students. Our partner, GENYOUth, pulled together funds to help schools buy equipment to distribute daily meals outside the cafeteria in its COVID-19 Emergency School Nutrition Fund.
46 million school meals across the nation have been provided through the GENYOUth fund to date, an average of 440,001 meals daily.
Dairy MAX continued this idea on the local level, working with nearby partners to raise funds and other resources so schools in our region could create packaged meals for families to pick up.
Efforts included:
Developing resources to help food service workers shift from traditional school milk to bulk milk purchases and distribution
Providing cold storage solutions
Helping navigate USDA waivers
Providing personal protective equipment to school food service workers
$673,000-plus monetary and in-kind donations were raised through our partnerships so far.
"As schools began closing across our region, our team's priority was to ensure all students had access to school meals, and that those meals included milk and other dairy options," said Alyson Kirchner, Dairy MAX vice president of school marketing. "I am proud of the team's agility and thankful for the countless partners who have rallied together to continue offering school meals to the children who need them."