Touchdown Recognition leads to Student Innovation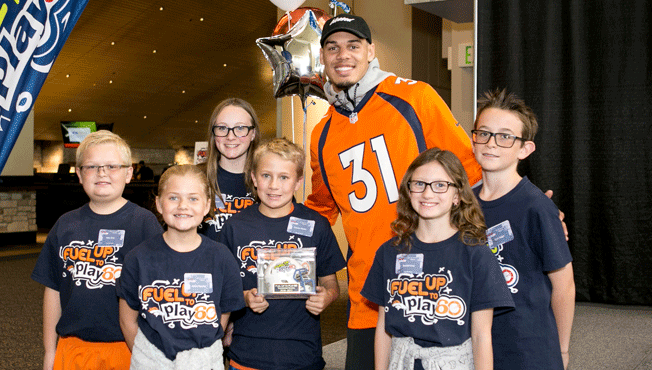 Nearly 300 Fuel Up to Play 60 students gathered at Sports Authority Field at Mile High, on October 24, to attend the fourth annual Fuel Greatness Touchdown Recognition event. These all-star students, representing 26 Colorado schools, were recognized for reaching Touchdown level in the Fuel Up to Play 60 program during the 2016-2017 school year. For these schools to reach touchdown status they completed all six steps of the student-led program.
During the event students had the opportunity to meet Denver Broncos' players Justin Simmons and Darian Stewart, take a 'behind-the-scenes' stadium tour, and learn a dance routine from Denver Broncos Cheerleaders Erica and Angela. Attendees also had the opportunity to learn about dairy farming in the Dairy Discovery Zone, which highlighted milking June, our animatronic cow, and write thank you notes to our dairy farmers for their support of the program.
New to the event this year were two innovation challenges specifically designed for the student's grade level. Elementary students were challenged to get creative and provide a Fuel Up to Play 60 cleat design for Virgil Green, Fuel Up to Play 60 Player Ambassador. Virgil will wear custom Fuel Up to Play 60 cleats during the NFL's My Cause My Cleats game on December 1st.
Middle school students were invited to present a two-minute shark-tank style pitch to a VIP judging panel as part of the first ever Healthy Schools Innovation Challenge. The judging panel included Jim Webb, vice-chairman of our board of directors, Denver Broncos' safety Darian Stewart, Epicurean chef Nikki Olst, and Denver Broncos executive director of community development, Allie Pisching.
Students were challenged to come up with unique idea on how they would spend $5,000 to promote nutrition education and increase physical activity in their schools. The funds for this challenge were provided through the Fuel Up to Play 60 Hometown Grant program. Five lucky schools were awarded funding:
$5000 grand prize - Brush Middle School to create a community walking trail with physical activity stations.
$2000 first runner-up - Bill Roberts Middle to $2,000 to expand a smoothie station program.
$1000 runner-ups:

Weld Central Middle for a Farm to School program
Everitt Middle School for additional recess equipment
Falcon Bluffs Middle School for a GaGa ball pit – a unique, outdoor netted ballgame
In addition to the schools that attended the event, we recognized an additional sixteen Colorado Schools, eight Montana schools, and one Wyoming school for reaching Touchdown status with the Fuel Up to Play 60 Touchdown Trophy. 
The day was a great opportunity to recognize and celebrate our student leaders' and schools' commitment to health and wellness. The School Wellness team looks forward to supporting schools again this school year to encourage Touchdown Recognition, in anticipation for next year's recognition and celebration event.