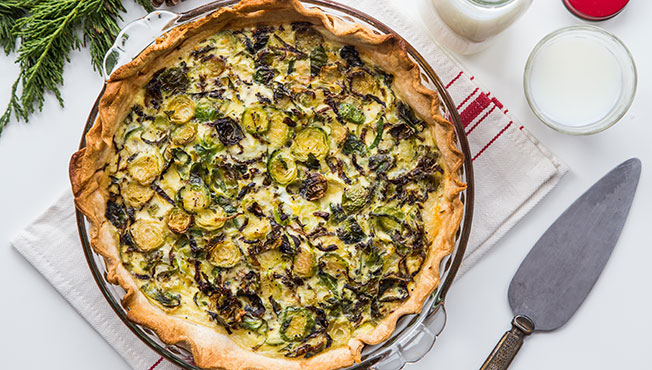 The newest. The latest. The must have of the year. Whether it's fashion or food, we all want to be in the know. As health professionals, we need to be in the know when it comes to food trends. The foods our clients choose impact their health lifelong. Food and diet trends are problematic. Some can rob their followers of essential nutrients. Some can be so indulgent that they can cause their followers to gain weight. So while the media, the restaurant industry or food gurus may want us to follow the next big thing, it may be wiser to find how the next big thing can fit with MyPlate.
As health professionals, food trends are our opportunity to talk about healthy eating. After all, we know that it's not nutrition unless it's eaten. Ready to experience the brave new world of food? Here are my favorite top three trends from the National Restaurant Show:
Focus on the Farm
Consumers want to know more about where their food comes from. They want to make that connection from the farm to the table. Transparency through the food chain remains top of mind. Dairy has a great story to tell as milk is the original local food.
Dairy farmers are also committed to keep their farms sustainable through smart practices such as reducing food waste through resource recovery. Dairy cows are super trendy when it comes to their food sourcing, they focus on reducing emissions and reducing waste by eating an earth-friendly diet.
Finally, in the food transparency conversation, consumers are seeking out clean labels. As health professionals, we need to aware of this trend. While it's great that consumers are shopping the perimeter and seeking out fresh foods, we also need to encourage healthy foods that are fortified for a reason. Sharing our knowledge is key to ensure that our clients still get the nutrients they need.
Spice it Up
Eat locally, but think globally is a concept gaining some steam. African, Asian and Indian flavors abound. Many of these flavors will be finding their way on to American menus through spice blends and sauces including:
And then there's turmeric. Turmeric is hot as many people are touting the spice's health benefits. Be right on trend by embracing the golden milk craze.
All of these flavor combinations pair well with delicious dairy. Use the dinner table as an opportunity to explore new spices, new foods and new cultures.
Unexpected Combinations
Perhaps the most interesting trend I saw was new approaches to old favorites. Cheese is becoming yogurt's competition. Yogurt is brushing off its sweet reputation. Coffee is brewed cold. The food world is embracing new ideas:
Quark: It's a spoonable cheese that can be eaten like yogurt. Fans love that it's high in protein and low in tang. If you like the versatility of yogurt, but want to leave the tartness behind, it's a cheese worth exploring.
Savory Spin: Chobani is leading the pact with new yogurt uses in dips, dressings and comfort foods. The yogurt aisle will be changing too. Expect to see flavors like carrot, sweet potato and parsnip at your grocery store soon.
Cold as Ice: Cold brew coffee is having a moment. It's made by soaking coffee grounds in room-temperature or cold water for hours or even days. Aficionados claim that this makes for a deeper, less acidic and more subtle taste. Add some cold milk and you have one delicious latte.
Hopefully, I've inspired you to get in on the conversation about #foodtrends. Explore healthy eating options and delicious recipes to pass along to your clients here.