1.25 oz
Meat / Meat Alternative
Ingredients
48 Servings
1 cup corn, frozen
3 pounds eggs, liquid, frozen
1 3/4 cups beans, black, canned, low-sodium
1/2 cup bell pepper, green, 1/2" diced
2/3 cup yogurt, Greek, plain, fat-free
1 tablespoon and 2 teaspoons taco seasoning, low-sodium
6 ounces cheese, cheddar, shredded, low-fat
6 ounces cheese, mozzarella, shredded, low-fat
96 Servings
2 cups corn, frozen
6 pounds eggs, liquid, frozen
3 1/2 cups beans, black canned, low-sodium
1 cup bell pepper, green, 1/2" diced
1 1/3 cups yogurt, Greek, plain, fat-free
3 tablespoons and 1 teaspoon taco seasoning, low-sodium
12 ounces cheese, cheddar, shredded, low-fat
12 ounces cheese, mozzarella, shredded, low-fat
Nutrition Facts
per serving
Calories: 55
Protein: 4.54 g
Carbohydrate: 2.62 g
Dietary Fiber: 0.72 g
Total Fat: 2.78 g
Saturated Fat: 0.90 g
Cholesterol: 105.62 mg
Sodium: 71.96 mg
Sugar: 0.30 g
Instructions
Day before service, thaw the corn and eggs overnight in the refrigerator.

Critical Control Point (CCP): Hold at 41° F or below.

Preheat oven to 350° F convection or 375° F conventional. Line a full-size 2" deep steam table pan with a pan liner and spray with pan release. Fold the pan liner in half to fit the pan. Use one pan for 48 servings and two pans for 96 servings.
Drain and rinse the black beans in a colander. Shake to remove excess water.
In a large bowl or container, combine the diced green bell pepper with black beans and corn. Set aside.
In another large bowl or container, whisk the yogurt and taco seasoning. Then add the eggs and whisk again to combine.
Bake for 20-25 minutes or until the center is set.

CCP: Heat to 155° F or higher.

While the frittata is baking, combine the cheddar and mozzarella cheeses. Once the frittata center is set, remove from the oven and sprinkle with the cheese. Return to the oven and bake until the cheese is melted, about 5 minutes.

CCP: No bare-hand contact with ready-to-eat food.

For 1.25 ounce eq meat/meat alternative servings, cut each pan into 48 pieces. With the pan horizontal, make one cut down the center of the pan. Then cut each half in half, and then each quarter in half one more time. Turn the pan vertically. Make one cut down the center, then cut each half into thirds.

CCP: Hold and serve at 135° F or above.
Tip
One (6x8) serving provides 1.25 ounces meat/meat alternative.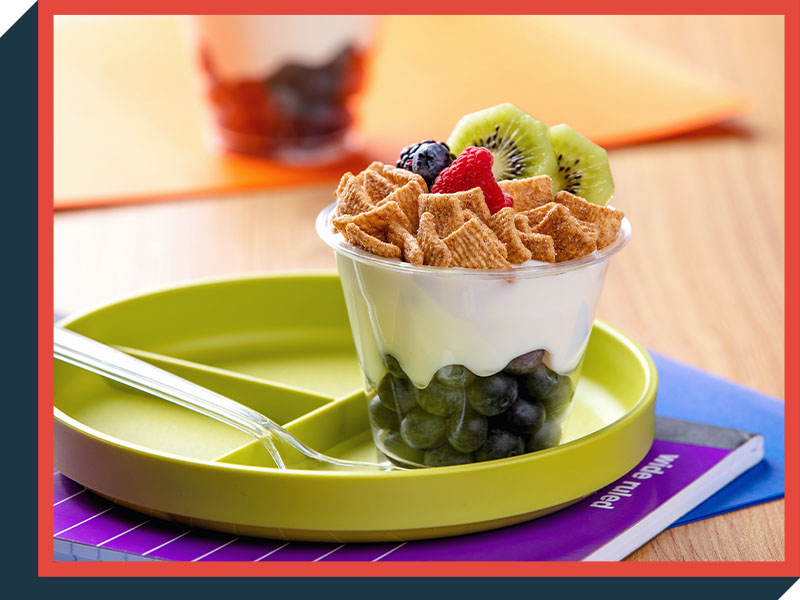 For next steps on promoting and implementing these delicious breakfast recipes, download the full Breakfast Toolkit!
Download