2 oz
Meat / Meat Alternative
Ingredients
37 Servings
5 pounds chicken, fully cooked, diced
1/2 cup butter, unsalted
1 pound and 9 ounces onion, white, raw, 1/2" diced
1/2 cup and 2 tablespoons tomato paste, no salt added
1/4 cup and 2 tablespoons garam masala
2 tablespoons garlic, granulated
1 tablespoon and 1 teaspoon cumin
1 tablespoon and 1 teaspoon paprika
2 teaspoons ginger
1 tablespoon and 2 teaspoons salt
1 teaspoon chili powder
1/2 #10-can diced tomatoes, no salt added, undrained
1 quart water
2 cups yogurt, Greek, plain, low-fat
3/4 cup fresh cilantro, chopped
1 gallon brown rice, cooked
74 Servings
10 pounds chicken, fully cooked, diced
1 cup butter, unsalted
3 pounds and 2 ounces onion, white, raw, 1/2" diced
1 1/4 cups tomato paste, no salt added
3/4 cup garam masala
1/4 cup garlic, granulated
2 tablespoons and 2 teaspoons cumin
2 tablespoons and 2 teaspoons paprika
1 tablespoon and 1 teaspoon ginger
3 tablespoons and 1 teaspoon salt
2 teaspoons chili powder
1 #10-can diced tomatoes, no salt added, undrained
2 quarts water
1 quart yogurt, Greek, plain, low-fat
1 1/2 cups fresh cilantro, chopped
2 gallons and 1 1/4 quarts brown rice, cooked
Nutrition Facts
per serving
Calories: 231
Protein: 17 g
Carbohydrate: 50 g
Dietary Fiber: 2 g
Total Fat: 5 g
Saturated Fat: 2 g
Cholesterol: 49 mg
Sodium: 192 mg

Instructions
Critical Control Point (CCP): No bare-hand contact with ready-to-eat food.
Thaw the diced chicken in the refrigerator overnight.
Add butter to a tilt skillet set to medium heat. Once the butter is melted, add the diced onion and cook for 4-5 minutes or until the edges of the onion begin to turn brown.
Add the tomato paste to the skillet and stir to mix it into the onion. Cook for about 2-3 minutes or until the paste begins to darken.
Add the garam masala, granulated garlic, cumin, paprika, ginger, salt and chili powder. Cook for about 30 seconds until fragrant, being careful not to let the spices burn.
Add the diced tomatoes with liquid (undrained) and water to the skillet. Bring the sauce to a simmer and cook for about 30 minutes uncovered to allow the sauce to significantly reduce and the flavors to develop.
Turn off the heat, allow the sauce to stop simmering and then blend using an immersion blender. Once smooth, stir in the yogurt. Add the chicken, return to a simmer and cook until the chicken is warmed through.
Top with chopped cilantro right before service. Serve 1/2 cup Chicken Tikka Masala using a #8 disher over 1/2 cup (grades K-8) or 1 cup (grades 9-12) of brown rice.

CCP: Hold and serve at 135° F or higher.
Tips
See Marketing Guide for purchasing information on foods that will change during preparation or when a variation of the ingredient is available.
One serving provides 2 ounces eq WGR grain, 2 ounces meat/meat alternative, 1/8 cup red/orange vegetable.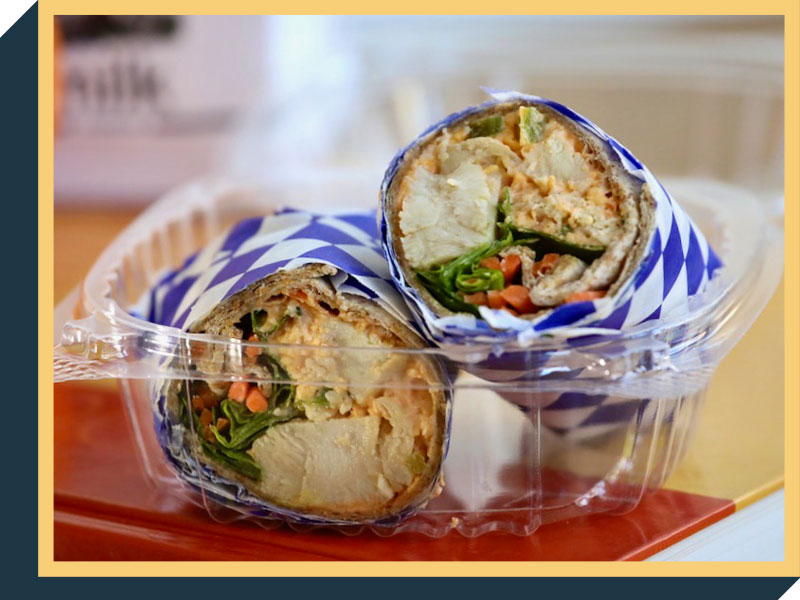 For next steps on promoting and implementing these delicious lunch recipes, download the full Lunch Toolkit!
Download