2 oz
Meat / Meat Alternative
Ingredients
16 Each
16 pita pockets, WGR, 2 ounces eq
1 cup cucumber, grated
2 cups yogurt, Greek, plain, low-fat
2 tablespoons white vinegar
1/2 teaspoon black pepper
1/2 teaspoon dill, dried
1/2 teaspoon garlic powder
1/2 teaspoon salt
2 pounds hummus, original
1 pound and 9 ounces tomatoes, cherry, halved
5.3 ounces lettuce, romaine, shredded
1 pound cheese, feta, crumbled
1 cup olives, black, canned, drained
64 Each
64 pita pockets, WGR, 2 ounces eq
1 quart cucumber, grated
2 quarts yogurt, Greek, plain, low-fat
1/2 cup white vinegar
2 teaspoons black pepper
2 teaspoons dill, dried
2 teaspoons garlic powder
2 teaspoons salt
8 pounds hummus, original
6 pounds and 1 gallon tomatoes, cherry, halved
1 gallon lettuce, romaine, shredded
4 pounds cheese, feta, crumbled
1 quart olives, black, canned, drained
Nutrition Facts
per serving
Calories: 445
Protein: 18 g
Carbohydrate: 51 g
Dietary Fiber: 9 g
Total Fat: 23 g
Saturated Fat: 5 g
Cholesterol: 28 mg
Sodium: 911 mg

Instructions
Critical Control Point (CCP): No bare-hand contact with ready-to-eat food.
Place grated cucumber in a colander or perforated pan. Using gloved hands or a potato masher, press the cucumber to remove excess liquid.
Place cucumber, Greek yogurt, white vinegar, black pepper, dried dill, garlic powder and salt in a bowl or container. Stir until well combined. For best results, prepare one day in advance.
Layer ingredients in a 9-ounce cup in the following order:

Hummus (#16 disher)
Tomato halves (#16 disher)
Tzatziki (#30 disher)
Lettuce (#16 disher)
Feta (#16 disher)
1 tablespoon olives

CCP: Hold and serve at 41° F or below.

Cut pita pockets in half and then in half again to create quarters. Place four pita triangles into a paper pastry bag and into a warmer 10 minutes prior to service.
CCP: No bare-hand contact with ready-to-eat food.
Serve Greek Dipping Cup with warm pita bread.
Tips
See Marketing Guide for purchasing information on foods that will change during preparation or when a variation of the ingredient is available.
One serving provides 2 ounces eq WGR grain, 2 ounces meat/meat alternative, 1/4 cup red/orange vegetable, 1/8 cup dark green vegetable and 1/8 cup other vegetable.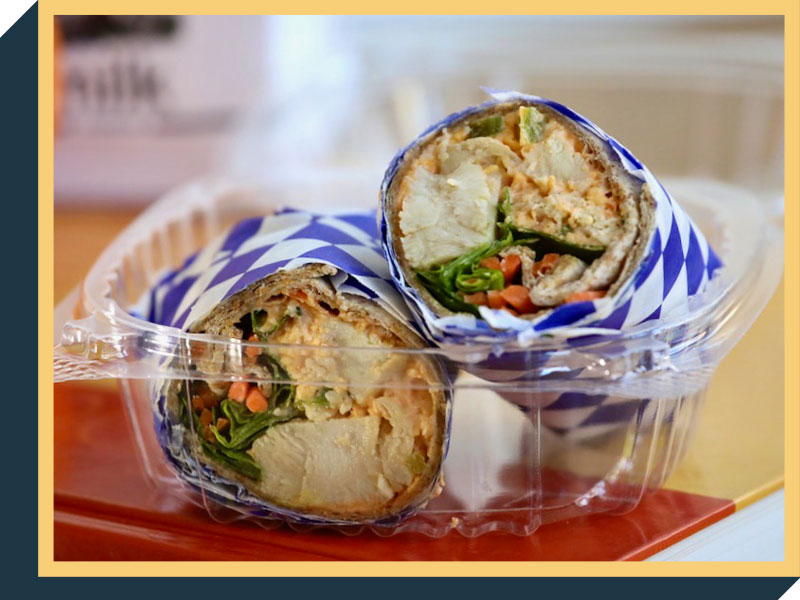 For next steps on promoting and implementing these delicious lunch recipes, download the full Lunch Toolkit!
Download