Bringing History and Heritage Home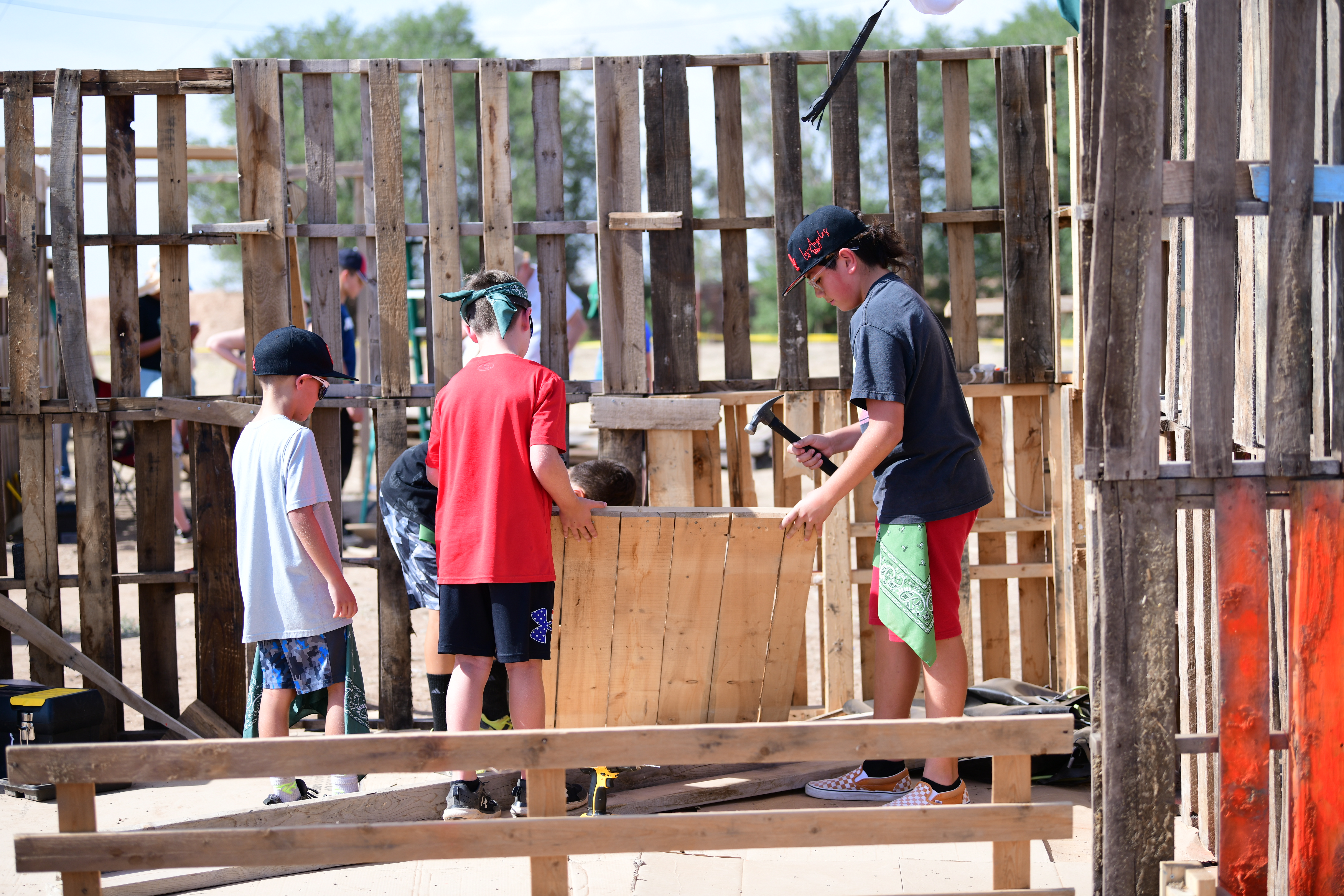 Local dairy farmer takes traditions from his native country to impact the community he calls home.
Dairy Farmers care about the communities where they live and often give back, but in Friona, Texas, one local dairy farmer merged his family heritage and passion for serving to create a truly unique and special experience for his town. Harry DeWit was raised in the Netherlands and still visits often to see his family and it was on one of these visits that he witnessed a tradition that sparked an idea that would become a beloved event in his community.
The kidz building camp is a rural Dutch tradition that brings together young people from all backgrounds to build and create. Typically using pallets, the participants are encouraged to build any type of structure they can dream up. Seeing the benefit it could bring to the youth in his town, DeWit began hosting a Kidz Building Camp in Friona with the help of fellow dairy farmers Tom Alger, Koen Ally and other volunteers from the community. Kids ages 5-12 participate in the week-long event. On the first day, kids are divided into groups and tasked with taking their pallets to create a structure fitting the theme of the building camp for that year. This summer, the theme was businesses around Friona.
"Some kids go on family vacations over the summer, but others in the community might not be able, and the Kidz Building Camp gives every kid the opportunity to take part in something over the summer," says founder and organizer DeWit. "We have seen 5-year-old kids who may have never held a hammer before be able to take their idea and make it a reality, thanks to our volunteers helping and guiding them safely in the building process."
Koen Ally, another dairy farmer in Friona, became involved in Building Camp when DeWit pitched the idea to him. At the time, his kids were also the perfect age to participate and are now a volunteer and lead the camp. A large component of the camp is encouraging kids to be independent and creative and learn how to use the tools they are given to bring a vision to life. Guided by one or two volunteers per group, the kids take the lead to create outstanding structures at the camp.
"Kids need to play. We are taking a chance giving 7,8,9-year-olds a hammer but giving the kids freedom and creativity is awesome. They can play the old-fashioned way. It always surprises us that kids don't need a cell phone at camp," says Ally.
The event has changed and evolved through the years, and this year families were invited to attend camp on Friday night to see first-hand what their kids had created and participate in different games and activities. The family aspect was one of the best parts of this year's event for Alger. This summer, two of his grandkids were also in town and were able to attend. After night one, they were hooked and now say they are coming back every year to go to building camp.
On top of the independence, creativity, responsibility, and hard work the kids are getting to learn, teamwork is one of the foundational skills that building camp focuses on. Alger said it best, "The kids learn to work with each other. They get a team with seven or eight kids, somebody turns out to be the leader, and they come up with their own ideas of what to build."
This year, one group even designed a dairy farm which was fitting since the dairy foods and beverages provided to the kids were a fan favorite, especially the chocolate milk. "Every night, we have someone provide a free meal, like the Lions Club, local bank or other groups. We make sure all the kids have plenty of water and chocolate milk, and I tell you what, chocolate milk is a favorite for all of them," said DeWit. The people who are cooking or bringing a meal are also given a judging sheet, and they can go around the camp and rank each group based on several different criteria and prizes are handed out on Friday night.
DeWit, the kidz building camp board, and the many volunteers keep coming back year after year to host the camp because they know the value in getting kids outdoors and teaching them to have fun as a team. "It is a joy for me to give back to the community and see how creative the kids are and how the whole community bonds and looks forward to this camp. It is just good to see the kids work with their hands, create something and develop ideas," said DeWit.
The experience of kidz building camp is genuinely unlike anything else, and DeWit would love to see it spread to other towns and communities as well. "If anyone wants to get in contact with me, I would love to share what we do so other towns can take the idea, find some volunteers and get started as well.
If you have questions about how you can start a kidz building camp yourself or want to learn more, please reach out to your local Dairy MAX representative.