BUILT w/ Chocolate Milk partnerships driving impact on and off the field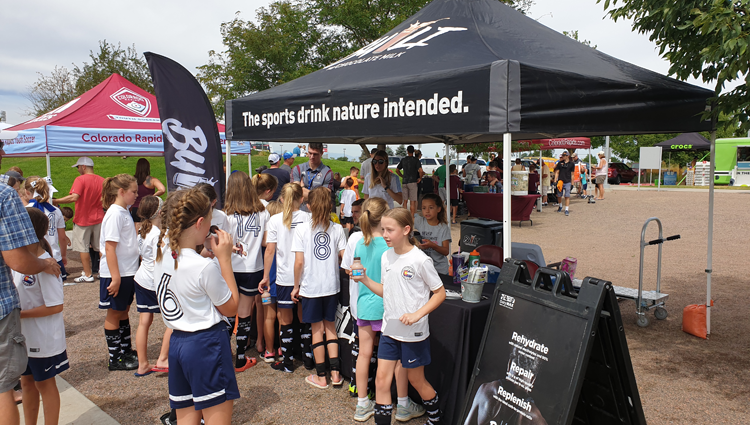 Consumer research shows that people are more likely to make lifestyle changes based on the advice of someone they trust, relate to or look up to. This fact is one of the main drivers of Dairy MAX's BUILT w/ Chocolate Milk program, which aims to increase dairy consumption among 14 to 35-year-olds. By using a targeted approach, the program reaches multiple audiences like coaches, parents and athletes in high school or college to promote the recovery benefits of chocolate milk post-workout. 
Dairy MAX programs work to engage dairy lovers of all ages in school buildings, health and wellness environments and online. But with consumption declining in teenagers and those in their 20's, the BUILT w/ Chocolate Milk program was created to engage these age groups and give them a reason to keep drinking milk.
Targeting influencers of high school athletes is a focus, including athletes, coaches, workout junkies, weekend warriors and parents. By partnering with organizations that high school coaches are already part of, Dairy MAX can further connect chocolate milk to their team's performance with research. Champions are BUILT cooler grants are another way Dairy MAX is lowering barriers to dairy in high school athletic programs. Both business development and school marketing teams work together to place coolers in tier one school districts across the Dairy MAX region.
"We are taking different angles to share positive dairy messages to kids at a young age," says Jaclyn Alkhatib, manager, business development for Dairy MAX. "Our school wellness consultants go through schools and the cafeteria, and now our business development team is targeting athletes to drive more demand. The more times people hear our messages, the more likely they are to choose chocolate milk."
In addition to high school athletic departments, educating universities about chocolate milk and ensuring they have access to product is also important. Dairy MAX helps bridge the gap by connecting universities to local processors who can supply chocolate milk or providing BUILT w/ Chocolate Milk coolers. This work has also expanded to leading seminars that teach university athletes about nutrition performance and cooking. Universities engaged to-date are University of Wyoming, University of Montana Western, Denver University and Colorado School of Mines. 
And to continue meeting kids, teenagers, young adults and parents where they are, the BUILT w/ Chocolate Milk program partners with sports teams like the Colorado Rapids Youth Soccer Club. Dairy MAX works with third-party advocates to engage Rapids coaches and share positive dairy nutrition messages, who can reach thousands of players ages 5-18 years old. BUILT w/ Chocolate Milk messaging is also displayed in The Eddy Indoor Soccer Facility as part of the Rapids partnership.
Dairy is also front and center every year at an in-game activation with the Colorado Eagles, a professional minor league hockey team. Meadow Gold hands out milk and June, the animatronic cow, is brought in for kids to have the chance to try their hand at milking. Commemorative cow bells branded BUILT w/ Chocolate Milk are a collector's item and are auctioned to raise money to provide milk for local food banks.
The larger workout community is also impacted through BUILT w/ Chocolate Milk partnerships with Pedal the Plains and Endurance Race Series.
"We partner with organizations that have a far reach, so we can get our message out to the masses," says Alkhatib. "Our goal is to create milk drinkers for life, on or off the field and when people have kids of their own."