BUILT by NATURE

Built by Nature
Why draft chocolate milk to your team? It's the sports drink nature intended. Watch Dallas football pro Tyrone Crawford and high school football coach/researcher Andy Cheshire, Ph.D. explain why they choose chocolate milk.
PROTEIN: 8 grams or more of high quality protein in every 8-ounce glass - vital for building and repairing muscle after games and practices. That's more protein than an egg.
CARBS-TO-PROTEIN RATIO: The added sugar in chocolate milk is actually a good thing – it raises the carbs-to-protein ratio of a typical glass to the ideal ratio for post-workout recovery.
ELECTROLYTES: Natural electrolytes in chocolate milk replenish what the body loses through sweat at game time, including:
300 mg Calcium: 30% DV
366 mg Potassium: 10% DV
107 mg Sodium: 4% DV
27 mg Magnesium: 6% DV
HYDRATION: 90 percent water, it also replaces the fluids lost during a workout.
Chocolate Milk vs. The Competition
Check the scoreboard; chocolate milk has more natural protein and less added sugar than these other choices. And you can choose lactose-free milk if you're lactose intolerant.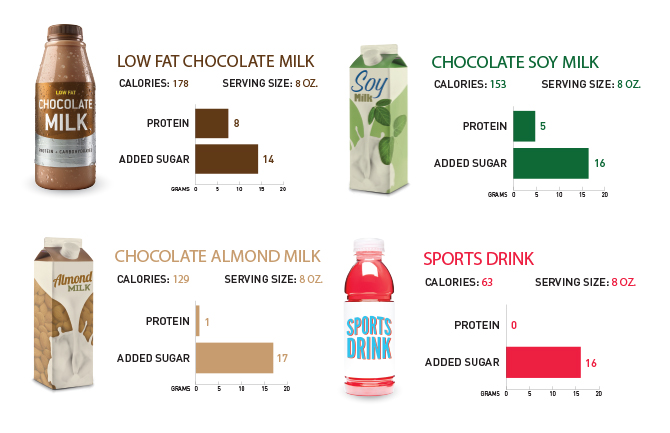 Get the BUILT by Nature brochure for a quick way to tell your team about the power of chocolate milk.