Dairy MAX Celebrates National Farmer's Day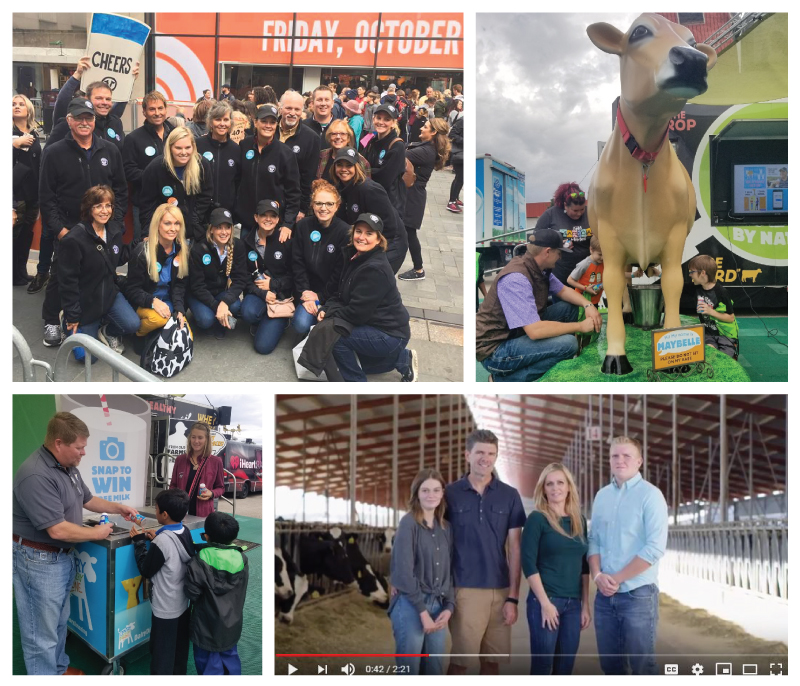 On October 12 Dairy MAX rallied with other organizations across the country to celebrate National Farmer's Day. This day was an opportunity for the industry to connect with consumers and showcase the real farmers and stories behind the dairy foods people love. Dairy MAX participated at a local and national level to bring farmers to consumers through in-person events and digital platforms.
Dairy MAX made direct farm-to-consumer connections by hosting a "Milk Break" with local dairy farmers at the State Fair of Texas on National Farmer's Day. The Milk Break took place at the Dairy Discovery Zone, our family-friendly exhibit that educates about all things dairy, where over 4,700 consumers stopped by to grab a free pint of milk and interact with farmers. Dairy farmers Kyle Humphrey and Syke Talsma answered questions, helped consumers milk a model cow and handed out children's books about life on a dairy farm.
"Bringing farmers to consumers on National Farmer's Day was a huge success," says Kaci Creel, vice president, corporate communications. "People had the opportunity to ask them questions and interact on a level they probably had never thought about before."
Tara Vander Dussen, a New Mexico dairy farmer, participated at a national level by attending the Grand Central Food Festival and Times Square Expo in New York City October 12-13. Along with eight other farmers from across the country, Tara interacted with consumers by sharing her story and answering questions about dairy farms and farm practices. Undeniably Dairy passed out grilled cheese and chocolate milk samples as well as engaged consumers through a series of dairy-themed activities. The group also stopped by Today Show Plaza during taping of The Today Show on October 12 to hold signs supporting dairy farmers on national television.
Pizza Hut, a dairy checkoff partner, also celebrated National Farmer's Day by creating a video that highlights the dairy farmers behind their cheese. Norm Dinis, a Colorado dairy farmer, and his family were featured along with other farmers from across the country showcasing their care and commitment. The video was posted on Pizza Hut's social media channels and website and is expected to reach close to 100 million views. Pizza Hut also highlighted the video on the homepage of their website. National partners like Pizza Hut continue to support dairy farmers by showing their appreciation and finding new ways to put more dairy in front of more customers.
Dairy MAX partners also showed support throughout the day across social media channels. These included Tyrone Crawford, professional football player and chocolate milk spokesperson, NFL teams the Denver Broncos and Dallas Cowboys, schools involved in the Fuel Up to Play 60 program and Hiland Dairy.
It's more important than ever to inspire people to learn more about where their food comes from. According to research by Dairy Management Inc. (DMI), 70 percent of consumers want to meet a farmer. By meeting consumers where they are, the dairy industry has a better chance of moving the needle and changing consumer perceptions. To learn more about how Dairy MAX reaches consumers on National Farmer's Day and beyond, click here.