Dairy MAX, NOCHI and Chef's Brigade Partner to Support the New Orleans Culinary Industry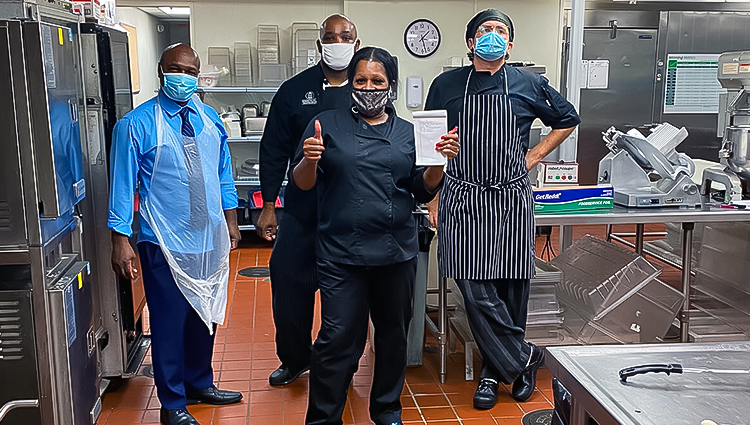 The restaurant industry is rebounding after more than a year of unprecedented challenges during the COVID-19 pandemic – a year that saw an incredible rise in food insecurity, yet an even more incredible collaboration of various hospitality organizations and businesses in a city world-renowned for its culinary industry. As this group of leaders joined forces to build an extraordinary solution to these challenges, the shared mission became clear, and Dairy MAX joined the effort to feed the food insecure residents in New Orleans. 
INDUSTRIES WORKING TO STAY RESILIENT  
During the height of the pandemic, a group of over 100 independent restaurants, purveyors and their staff banded together to support the culinary workforce through an alliance called Chef's Brigade. Together with Revolution Foods, The New Orleans Culinary & Hospitality Institute (NOCHI), the City of New Orleans, NOLA Ready, FEMA and D'Livery NOLA, these organizations worked to feed the growing population of food insecure individuals of New Orleans, while keeping restaurants open and their workforces employed. After 11 months, this alliance has produced over 3.3 million culturally appropriate and delicious meals for residents across the city. 
In the City of New Orleans, at least 87,710 residents were considered food insecure in 2016. This number increased exponentially in 2020 as unemployment rose from 9% pre-pandemic to a staggering 52% in May 2020 (source: urbanfootprint.com). "As COVID was decimating our communities early in the pandemic, we certainly felt compelled to step in and help," says Troy Gilbert, President and Executive Director of Chef's Brigade. 
DAIRY MAX JOINS THE CAUSE 
95% of dairy farms are family-owned, and as schools and restaurants began to close due to the COVID-19 pandemic, dairy farmers in Louisiana and across the 8-state Dairy MAX region answered the call to nourish their local communities above and beyond their usual efforts. In New Orleans, Dairy MAX joined the effort by donating $10,000 worth of large plastic food bags to help transport the thousands of meals sent to the Revolution Foods Culinary Center in New Orleans for individual plating.  
As a result of the partnership, multiple Chef's Brigade restaurants have worked to either increase the amount of nutritious dairy in their existing meals or create new meals that incorporate dairy like creamy chicken and vegetable stew and basil chicken pasta with string beans. "We certainly have tremendous respect for the resilience we've seen from the restaurant industry," says Jennie McDowell, Vice President of Business Development at Dairy MAX. "On behalf of the Louisiana dairy farm families we represent, we're happy to lend our support to the chefs and restaurants of New Orleans." 
Dairy MAX aims to further support the New Orleans restaurant industry during the month of June—also known as National Dairy Month—by piloting a special promotion with a select group of 7 local restaurant brands who are a part of the Chef's Brigade alliance. Each of these restaurants has created limited-time-only menu items that showcase dairy. From savory, cheesy entrees to creamy, indulgent desserts and cocktails, these dishes are hand crafted to ensure their dairy ingredients shine.  
Dairy MAX is leading the way by contributing advertising resources to each restaurant to support their success. "Now that we're hopefully coming out of the pandemic, we're excited to turn our focus to National Dairy Month as our partners create dairy-rich, delicious meals for the residents of New Orleans. Our hope is that this June promotion will help heal and revitalize the restaurant industry that New Orleans is famous for," said Gilbert 
HOW TO SUPPORT  
If you're in New Orleans during the month of June, be sure to stop into one of the participating Chef's Brigade restaurants listed below. To help support the work that Chef's Brigade is doing to feed frontline employees and those in need, visit Chef's Brigade where you can learn more and donate. 
Participating National Dairy Month Restaurants: