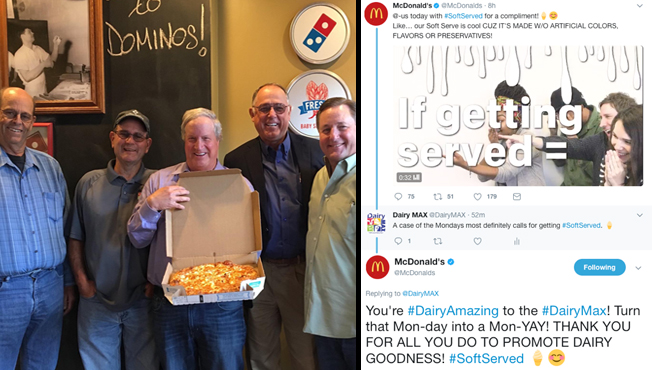 Dairy MAX is proud to have partners like Domino's and McDonald's which publicly recognize the hard work and devotion of our farmers. These partners share common values with the dairy industry – such as integrity and industry leadership. They also want to work together to expand the reach of nutrient-rich dairy products and ingredients, and bring to the table many additional resources in advancing dairy product innovation.
Dairy MAX, Western Dairy Association and agriculture organizations across the country participated in the Animal Ag Alliance's Thank You, Domino's Day on Friday, June 2. Recently Domino's has been a target of animal rights groups for supporting the dairy industry by taking a farmers knows best approach when it comes to animal care. Some of the Dairy MAX and Western Dairy Board Members along with CEO Mike Konkle stopped in a Dominos on June 2 to say thanks!
McDonald's took to twitter recently to serve up complements, and they had nice things to say about Dairy MAX. McDonald's rolled out a campaign to promote their new soft serve recipe, which removes artificial flavors, colors and preservatives from all soft-serve desserts including McFlurries and shakes. McDonald's asked customers to send a tweet and they replied with compliments. As you can see in the comments above McDonald's showed their appreciation and thanks to dairy farmers.