Dairy MAX Releases an Immersive Virtual Farm Tour Experience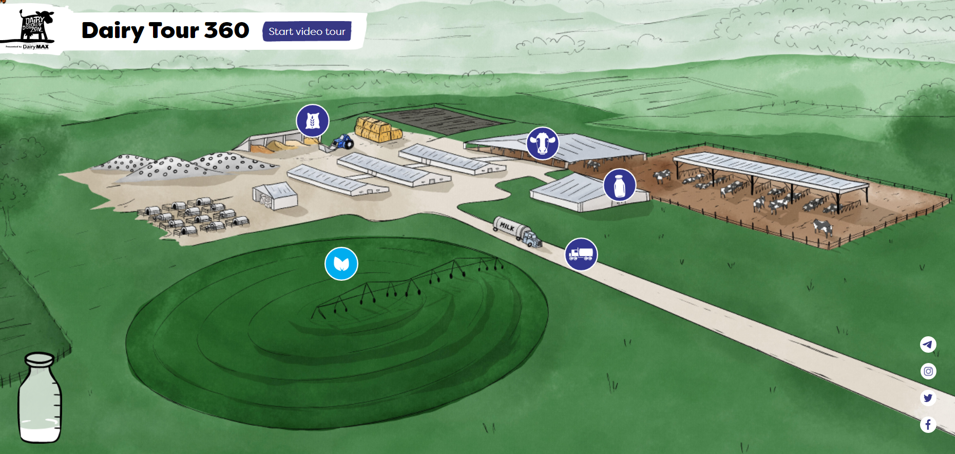 In an ever-changing world surrounded by rapidly changing technology, Dairy MAX knew there was a unique opportunity to connect consumers to local dairy farms. You can now visit a dairy farm from the comfort of your phone or computer with Dairy MAX's 360-degree Virtual Farm Experience, this 360-degree video will help get consumers closer to being on the dairy farm.
The virtual farm experience allows all ages to gain first-hand knowledge of life on a dairy farm. This experience was created to connect people who didn't grow up on a farm or are unable to visit a dairy farm near them with the opportunity to learn firsthand how dairy farmers care for their animals and the environment. The virtual farm experience allows you to experience every nook and cranny of what life is like on a modern-day dairy farm across the Dairy MAX region. The tour gives you a front seat to see where the dairy cows live, how they are fed, how the land is used, the milking process, and how the milk ends up in a store near you.
The last several years have proven challenging to bring visitors to dairy farms, and farmers wanted to continue sharing their farms and story. The Dairy MAX team explored new and innovative ideas as to how to bring people to the farm using the latest technology. "We constantly desire to bridge the gap between consumers and dairy farmers in an impactful and effective way. The transparency of the 360 tours allows us to connect with every generation and give them a true virtual tour of a dairy farm," said Marty McKinzie, chief growth officer.
The tour even offers insight into how dairy farms can vary across our region, as Dairy MAX visited three farms across their eight-state region to ensure they gave viewers the best experience possible. The use of multiple dairy farms allows viewers to visit three different types of milking parlors in a matter of seconds. Dairy MAX is excited to take you along with them on this 360-degree journey.
Dairy MAX's goal was not just to create a virtual tour but to make this an experience to remember. The immersive experience has two different viewing options. The first option is to view from a smart device, and the second option is to fully step into a farm with 360-degree goggles.
"The goal is to connect with consumers, both younger and older generations, and take them on a truly immersive experience. We want them to see what it's like on-farm and how dairy farmers care for their land and animals while creating a sustainable product," said Elizabeth Hurst, director of corporate communications.
Are you ready to step into a dairy farm? Check out the tour:
DairyTour360.com offers a virtual dairy farm users can explore by clicking around to the different parts of the farm, finding fun-fact popups and accessing a whole series of 360-degree videos with interesting commentary on key dairy topics. Viewers can click and drag to move the perspective of the camera and look all the way around each scene as it's playing.
For a fully immersive experience, the 360-degree videos are compatible with virtual reality headsets such as Oculus through the YouTube playlist. Viewers will feel like they are actually on the dairy farm – standing in the feed lane, riding the milking carousel or flying over the fields. A recent jump in VR use, especially over this past holiday season, positions us perfectly to make an impact with this technology.
The Mobile Experience
Smartphone users can explore the desktop version in a browser on their phones. Or, if they have a VR viewer tool like Google Cardboard, they can enjoy an experience similar to a VR headset:
Download the latest YouTube app
Play the YouTube playlist 
Tap the google icon at the bottom of the screen
Insert the phone into the VR viewer tool 
###
About Dairy MAX 
Founded more than 40 years ago, Dairy MAX is one of the leading regional dairy councils in America – representing more than 900 dairy farmers and serving communities in eight states: Colorado, southwest Kansas, Louisiana, Montana, New Mexico, western Oklahoma, Texas and Wyoming. A nonprofit organization, Dairy MAX is part of a nationwide effort to support dairy farming and drive impact for every dairy farmer, while promoting American agriculture. The organization operates five audience outreach programs: business development, consumer marketing, health and wellness, industry image and relations and school marketing. For more information about Dairy MAX and its team of experts, visit DairyMAX.org. Dairy resources and delicious recipes are available at DairyDiscoveryZone.com.