Dairy MAX Teams Up with Liviri Coolers and Colorado Eagles to Support School Meal Deliveries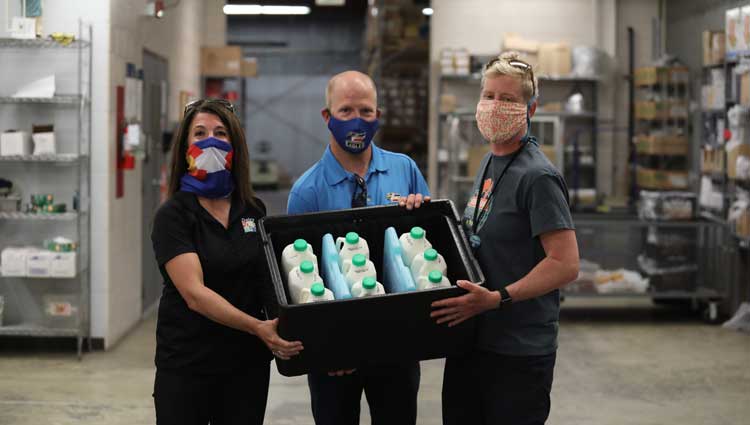 Liviri Coolers, an Otter Products brand based in Fort Collins, Colorado, generously donated 50 coolers to five Northern Colorado districts in an effort to aid school meal deliveries this summer. Dairy MAX was proud to join the Colorado Eagles hockey team, who spearheaded the delivery of the coolers to the following districts: Poudre, Thompson, St. Vrain, Windsor, and Greeley D6.
The Liviri coolers will be instrumental through the summer and into the fall as the districts continue delivering meals to students. Many kids in Colorado face hunger and oftentimes only get the nutrition they need through school meals. Due to COVID-related school closures, many districts were forced to come up with unique ways to serve meals at a distance, including curbside service and some home/porch deliveries. The use of Liviri coolers will allow them to continue their meal service outside of the school and cafeteria while ensuring food safety and the ability to offer perishable items.
"Now that it's summertime, we're putting all of our school meals on our school buses and distributing them throughout town," said Danielle Bock, Director of Food Services for Weld County School District 6. "There's absolutely no way that we could bring fresh, cold milk to the neighborhoods of Greeley and Evans if we didn't have coolers and ice to keep that product safe for our kids to drink."
Liviri prides itself on coolers that are also environmentally friendly, lightweight, and have the ability to safely transport temperature-sensitive perishable goods. "We believe in the importance of these school lunch programs and we're proud to support Northern Colorado school districts," said Andrew Norton, Liviri's Business Development Director. "The Liviri boxes we donated will keep these much-needed meals at a safe temperature throughout the day so that programs supported by organizations like Dairy MAX can continue to expand the positive impact they have in our communities."
Dairy MAX is committed to ensuring milk is made available to people in need. "We're thrilled to be a part of this partnership to donate Liviri coolers to schools in Northern Colorado," says Jennie McDowell, director of business development for Dairy MAX. "Throughout the COVID-19 pandemic, it has been our priority to get milk into the hands of those in need, and schools are at the top of that list. We're grateful to Liviri for their generous donation and to the Colorado Eagles for facilitating the partnership, and we look forward to ongoing opportunities to provide coolers to more school districts throughout Colorado."