Dietitians Promote Dairy, Nutrition to H-E-B Shoppers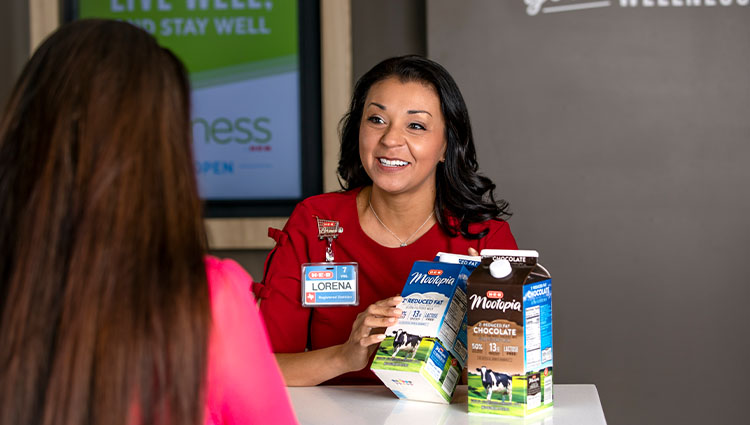 The Dairy MAX Physician Education Initiative (PEI) is designed to provide science-based information about dairy foods to physicians and health care providers. A team of five representatives share research demonstrating that specific dairy foods can contribute to a reduced risk of cardiovascular disease. While the PEI team has seen great success within the walls of physicians' offices, attending local events to promote dairy is a seized opportunity. At locations across Austin, San Antonio and Houston, the grocery store chain, H-E-B, is launching a new Primary Care model in eight inner-city locations called "H-E-B Wellness Primary Care." The H-E-B Primary Care model allows patients to receive convenient, affordable and comprehensive care from a licensed health care provider. In addition to serving as primary care, the H-E-B Wellness Primary Care locations provide patients with in-house dietitians who are thrilled to give expert nutritional advice and take them into the grocery store to help shop for healthy and nutritious food choices.
For the PEI team, primary care physicians and health care providers are the primary call point to share the heart health message and benefits of dairy. As a result, the first H-E-B Wellness Summit provided the PEI team the opportunity to join forces and build relationships with many primary care physicians and health care providers, and establish Dairy MAX as a reliable source of dairy nutrition information.
A robust body of evidence indicates that milk products are associated with a reduced risk of cardiovascular disease. In fact, the evidence shows that milk products, including those that are higher in fat such as cheese, may help to protect cardiovascular health. While attending the H-E-B Wellness Summit, the PEI team shared messaging on how patients can lower their risk of cardiovascular disease by including three servings of milk, cheese, or yogurt per day as part of the DASH eating plan, which stands for Dietary Approaches to Stop Hypertension. The team also shared results of the landmark Prospective Urban Rural Epidemiology (PURE) study which assessed the associations between dairy food consumption and the risk of major cardiovascular disease events (e.g., heart attack, stroke, heart failure and death due to cardiovascular causes). This study was published in 2018 and was based on data from 136,000 adults from 21 countries on five continents. The results of the study revealed that dairy food consumption was associated with a 22% lower risk of cardiovascular disease and a 34% lower risk of stroke. Additionally, the study showed that full-fat dairy consumption was associated with a 32% lower risk of cardiovascular disease.
Although most health care providers are aware of the DASH eating plan, very few are aware that it includes three servings of dairy foods per day. At the H-E-B Wellness Summit, the PEI team had educational engagements with approximately 187 health care providers and total office staff at all H-E-B Primary Care locations represented, many of whom asked that the PEI representative follow up with them with further information on the topic. The PEI team is actively messaging physicians, nurse practitioners, physician assistants, registered dietitians, and also the total office staff, all of whom may influence the behavior of patients and are also consumers themselves.
Nutrition Training of Pediatric Healthcare Team
The Dairy MAX Health and Wellness team has been educating health care providers for well over 2 decades. The primary focus has been to reach nutrition professionals and future nutrition professionals who are broadly respected and educated nutrition experts. Physicians, nurse practitioners and physician assistants in the pediatric setting are facing many challenges when it comes to teaching parents about pediatric nutrition. Research has indicated that they receive very little nutrition education yet are considered the most trusted source on nutrition education by parents. In the past, the Dairy MAX Health and Wellness team has broadly reached health care providers in groups by attending events and collaborating with publications that health care providers trust, like the National Medical Association, National Hispanic Medical Association and the American Diabetes Association. The Dairy MAX Health and Wellness team has now transitioned from broad group engagements to one-on-one or one-on-few engagements, which has brought new opportunities to discuss individualized nutrition recommendations, handle physician and patient objections, and change hearts and minds on a deeper level.
Dairy foods are an important and essential part of a healthy eating pattern for people across all life stages. Dairy MAX Health and Wellness efforts are focused on educating health care providers who work with families who have children from age 6 months to 18 years. The messaging varies from introducing yogurt and cheese as a first food, dairy foods impact on cognitive development, immunity and growth, to helping physicians understand the health benefits of dairy, especially for kids at higher risk for developing chronic nutrition related diseases. In addition to those messages, the team actively seeks opportunities to educate health care providers on the importance of helping patients find ways to add dairy foods to their day, even if they don't produce much lactase, and where dairy fits in for children struggling with weight management.
Studies have shown that Americans struggle to get enough potassium, calcium, vitamin D and fiber. Deficits of these four nutrients of concern can potentially lead to the development of preventable nutrition-related chronic diseases such as cardiovascular disease, diabetes, obesity and hypertension. Dairy foods contain three of the four nutrients of concern and eating the recommended number of servings daily can help Americans meet their nutrient needs and potentially have positive effects on health outcomes. While adults and parents are key consumers of messaging related to dairy, children are also an important consumer of dairy. However, dairy foods may be among the first foods that physicians cut if a child has tummy troubles or is struggling with their weight. Research has indicated that cutting dairy foods could have negative impacts on nutrient intake and negatively impact the long-term health of American children. Additionally, research has suggested that when dairy is utilized in childhood, consumption of dairy often continues throughout life.
The work of the Dairy MAX Health and Wellness team has seen great success and will continue to reach physicians and health care providers where they are by sharing the science around dairy nutrition and moving them along to become dairy advocates. This work is beneficial because the team is teaching the pediatric health care system about dairy nutrition and building advocates for dairy which ultimately helps families understand why dairy is an essential part of their child's healthy eating pattern.