Driving Results in Schools: 2018-19 Highlights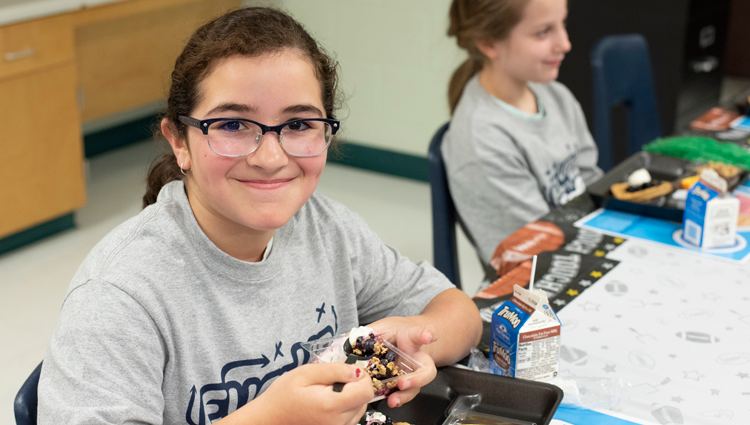 Dairy MAX's team of School Wellness Consultants are constantly working to increase dairy consumption and expand dairy offerings in school districts across our eight-state region. The 2018-2019 school year brought big wins for dairy through Fuel Up to Play 60 (FUTP 60) and dairy optimization programs. The team of School Wellness Consultants uses both channels to create opportunities for increased meal access, promote dairy nutrition and build youth wellness champions.
Dairy Optimization
Dairy optimization programs in schools across the region increased consumption to 355,397 pounds of milk in 2018-2019. Since not all students get to school on time for a traditional cafeteria breakfast or they don't take advantage of it, Dairy MAX provides school nutrition directors with the expertise, tools and grant funding to give students more opportunities to start the day with nutrient-rich foods like dairy. Programs like breakfast in the classroom, second chance breakfast or grab and go carts are alternate breakfast service options that increase student participation and dairy consumption. These alternative breakfast programs, along with yogurt menu expansion, coffee bars, smoothie bars and after school snacks resulted in over 600,000 more school meals consumed in our region.
Success Stories from Across the Region
Grab and Go: Dairy MAX works with partners like the PepsiCo Foundation to amplify our impact. This year PepsiCo provided a $70,000 grant for breakfast expansion, which will place grab and go breakfast carts in 11 schools in the fall of 2019 and is estimated to yield an additional 450,000 milk lbs.
Breakfast in the Classroom: Judson ISD in Texas implemented breakfast in the classroom, impacting 11,000 students and milk sales are estimated to increase by 250,000 lbs.
Second Chance Breakfast: Albany High School in Livingston Parish Public Schools in Louisiana increased breakfast participation by 65% and are now feeding 90% of their students every day.
Coffee Bars: Hobbs High School in New Mexico served over 27,000 coffee drinks to students in one year and each drink includes an 8oz serving of milk.
Champions are Built: 16 BUILT w/ Chocolate Milk coolers were provided to high schools impacting nearly 6,000 student athletes. One of those was Whitehouse ISD, where the high school uses it for all sports, boys and girls, and the cooler is projected to increase milk by nearly 13,000 servings.
Engaging Students in Fuel Up to Play 60
Dairy MAX School Wellness Consultants leverage the FUTP 60 program as a resource to provide dairy education and increase dairy consumption, while helping districts meet their wellness goals. A large part of the program is the NFL star power provided by NFL partners like the Dallas Cowboys, Denver Broncos, Houston Texans and New Orleans Saints which incentivizes schools to go through the program and implement a dairy-focused healthy eating play. Schools in the Dairy MAX region that completed the FUTP 60 program represent 36% of the national total of program completions.
The School Marketing Team also executes events like the Fuel Greatness Breakfast Games to incentivize increased consumption of school meals, and ultimately dairy, and FUTP60 participation through contests. The Breakfast Games also support the National Dairy Council Fuel Greatness Initiative, and 2019 Dairy MAX held contests in three targeted school districts for a chance to win the event with dairy farmers and professional football player guests. Chosen districts in Albuquerque, San Antonio and Houston increased the number of breakfasts eaten by 110,000, resulting in 42,000 more pounds of milk consumed during the contest.
Looking Ahead
In the upcoming school year, the School Marketing Team will continue to drive results for dairy in schools by increasing meal consumption, expanding breakfast service models, and adding more dairy to school menus. Additionally, they will focus on strengthening digital and social media communication with school nutrition directors and decision-makers.
Protecting 1% flavored milk in schools will be another strong focus. With the final School Meal Flexibility Rule published by USDA in December of 2018, schools can start re-introducing low-fat flavored milk into menus. Over the last year Dairy MAX's 1% flavored milk task force has been hard at work implementing a strategy targeting school districts and processors. Moving forward Dairy MAX will continue driving discussions and creating new marketing materials to promote the benefits of serving 1% flavored milk.
Fall of 2019 will also mark the 10th anniversary of FUTP 60, which Dairy MAX will celebrate by inspiring even more support and education around the program. Click here to learn more about Dairy MAX's school efforts.