Engaging 2,600 Medical Professionals With Helpful Dairy Data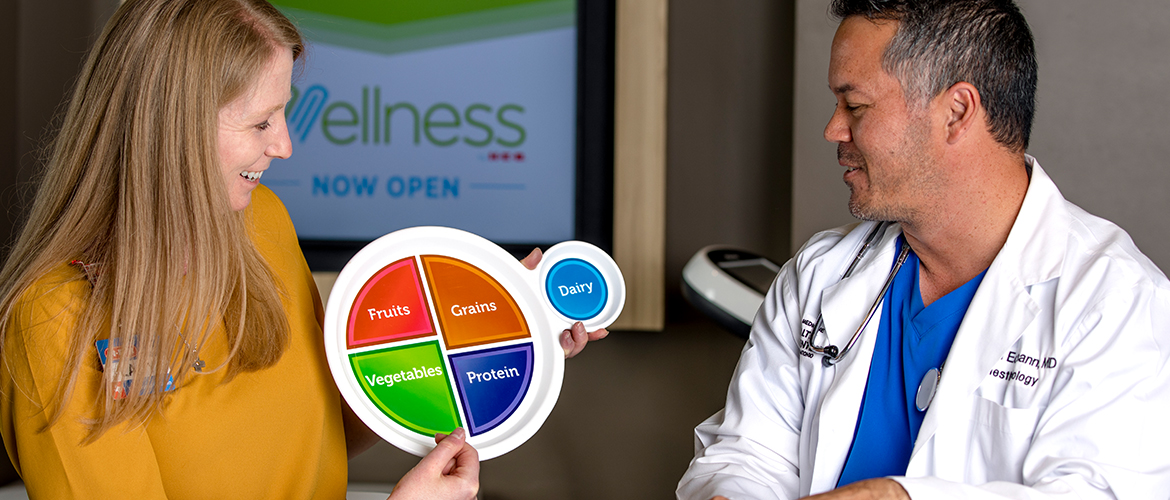 We saw excellent results from a recent digital campaign to put important dairy data in front of physicians and other health care professionals.
Why health care?
Physicians are a powerful audience for promoting dairy because they have a powerful influence over a large audience themselves; helping parents understand what is healthy for their children and helping patients with heart disease or diabetes learn how to manage their health issues with the right foods.
But not all doctors have seen the growing body of research around dairy. Many are unaware of its benefits for heart health or of how it stacks up against non-dairy milk alternatives. We set out to reach family physicians, pediatricians, cardiologists and physician assistants / nurse practitioners with this information.
How did we reach them?
Since the pandemic, health care professionals are relying more heavily on social media to network and follow research – which means we have new opportunities to reach them. We identified two platforms that would help us target the right people with the right information: LinkedIn, specifically its lead generation programs, which can target by job title and offer helpful resources in exchange for contact information; and Doximity, a networking site designed for health care professionals, with opportunities to place informative articles in front of users within the app.
What did we show them?
Our content focused on heart health, diabetes and comparing real milk to milk alternatives. On Doximity, users could click through to mini-articles without leaving the app. On LinkedIn, they'd receive a free patient handout for providing their contact information – allowing us to follow up later with more dairy messaging.
Image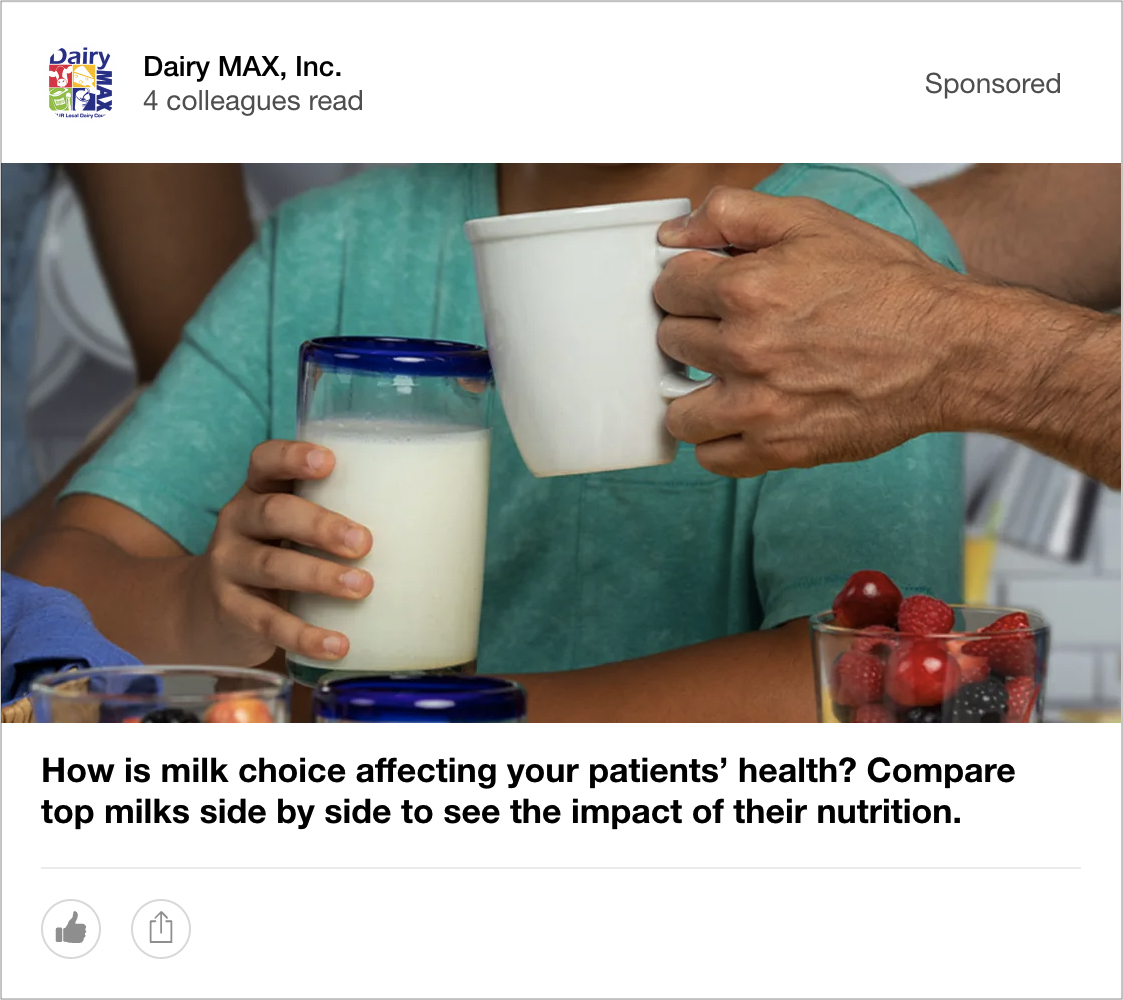 Image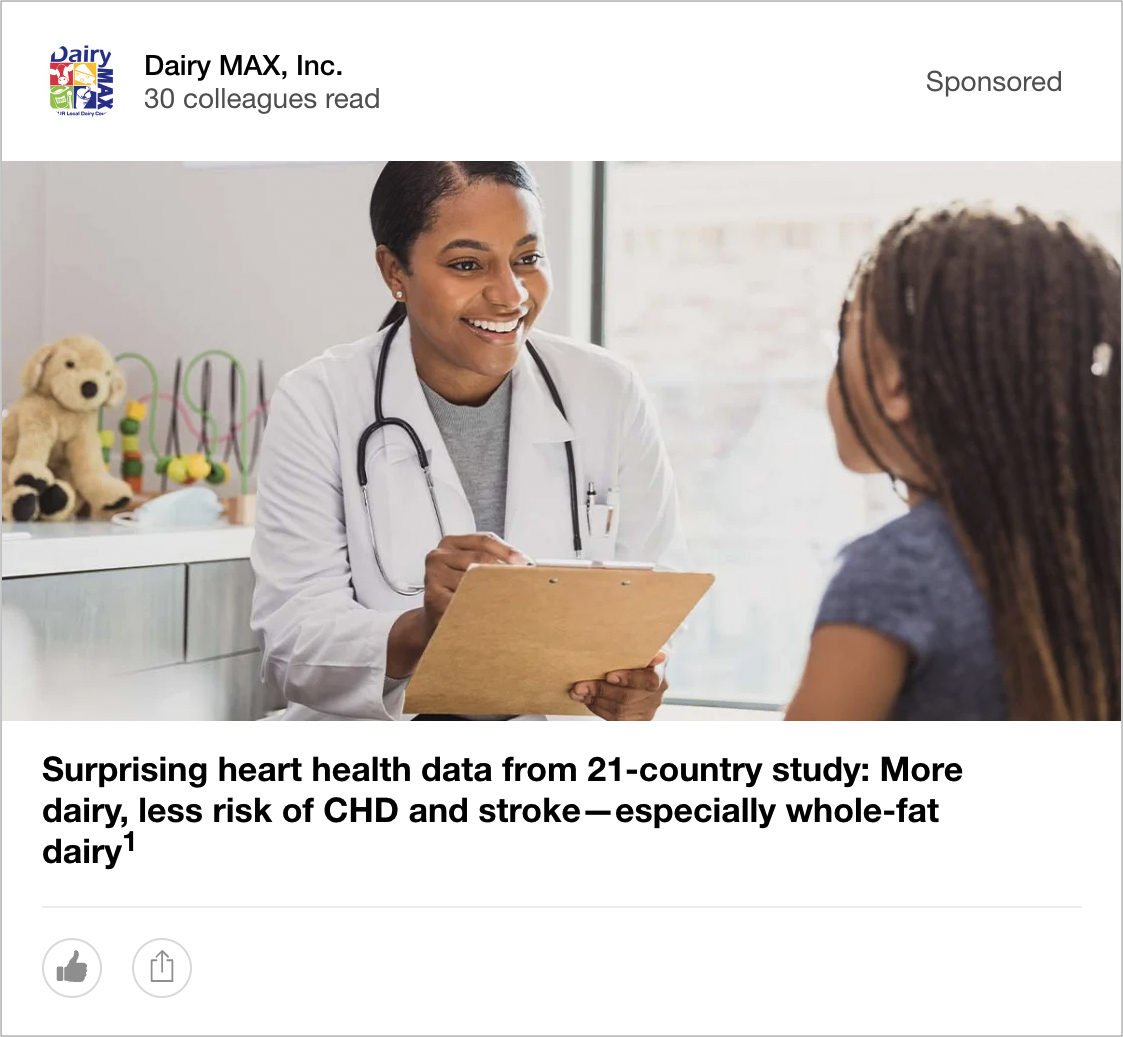 What impact did we make?
Our ads on Doximity were seen more than 22K times, and 1.8K different people clicked through to read more – 3.45K times all together. This amounts to a click-through rate over 15%, far greater than industry averages on other platforms (usually 0.08 - 1.5%).
On LinkedIn, we earned 424K impressions, and saw 830 people provide their contact information to receive the handout. That's a lead-form completion rate of 17%, again well above the industry average of 11%.
Between both platforms, that includes more than 2,600 people – in highly-influential health professions – wanting to hear more of our message.
After these huge successes, we look forward to continuing this strategy in the coming year.