Partnering to Support Next Generation of Dairy Leaders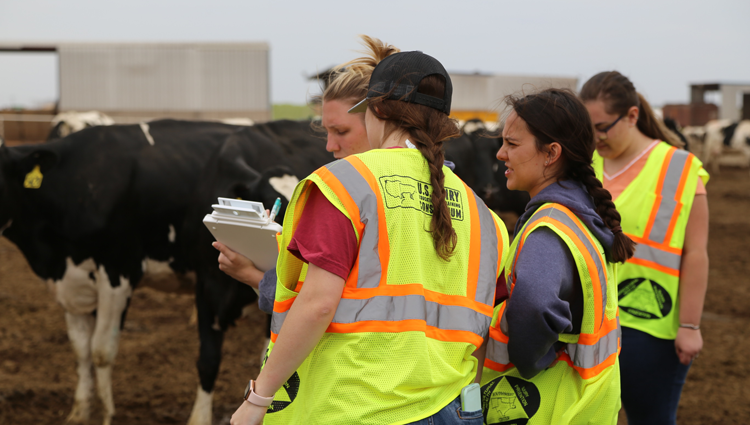 The dairy industry relies on the next generation. Farmers are committed to the next generation of their herd and the next generation who will have the operation passed down to them. But the next generation of consumers who don't understand where their food comes from are another important group we must keep in mind. The U.S. Dairy Education & Training Consortium (USDETC) has found a way to focus on all three by cultivating the next generation of dairy leaders.
Formerly known as the Southern Great Plains Dairy Consortium, USDETC was established in 2008 to meet the educational and training needs of the dairy industry. Universities across the country noticed increased dairy presence in their areas, but lack of funding for dairy science programs. Professors from New Mexico State University, Texas A&M University and University of Arizona came together with a shared vision to bring dairy education back to the next generation.
USDETC was formed, giving students interested in dairy science an opportunity to spend six weeks learning large herd management from nationally known dairy science faculty. Over the six weeks, students travel to over 40 different dairies and industry locations, gaining hands-on experience on topics like nutrition, reproduction, herd health and more.
Dr. Robert Hagevoort, associate professor and extension dairy specialist with New Mexico State University, was instrumental in the establishment of USDETC and the idea of bringing students to the farms instead of the other way around. According to him, the program is made possible because of dairy farmers who willingly open the doors to their dairies.
"You can't realistically teach dairy management on campus, when states like New Mexico and Texas have herds of 1,000 head or more," says Hagevoort. "Dairymen in this area offered for us to use their dairies as classrooms. They all recognize the importance of investing in the next generation."
Out of the 480+ students that have attended USDETC since 2008, one out of three are now working on dairies and two out of three work in allied industry. According to Hagevoort, student feedback highlights networking and the hands-on experience gained from USDETC as the biggest takeaways.
Local and national dairy checkoff are proud supporters of USDETC along with AgriLife Extension and other agricultural organizations. Every year Dairy MAX closes the program with a Telling Your Story communications training, giving students messaging and other tools for becoming positive dairy advocates. National dairy checkoff also supports the program through the Innovation Center for U.S. Dairy's Sustainability Alliance, which USDETC is a member of. This collaboration helps point students in the direction of checkoff resources.
The four pillars of the National Dairy FARM program (animal care, environmental stewardship, antibiotic stewardship and workforce development) are also key focus areas of USDETC curriculum. With sustainable nutrition and workforce becoming more top of mind with consumers, USDETC has shifted the program to highlight these topics with students in a new way that provides both practical knowledge and consumer insights.
"In the beginning we would only talk about things like animal care and workforce development from a technical perspective," says Hagevoort. "Now we bring in professors and advisors to the FARM program that hold up a mirror that's 15 years ahead to reflect on what is coming. The students end up more aware of these topics and ask thoughtful questions."
With the diverse learning opportunities USDETC provides, the future of the dairy industry has never looked brighter. Click here to learn more about the program.