Raise Your Glass of Milk: National Dairy Month is Here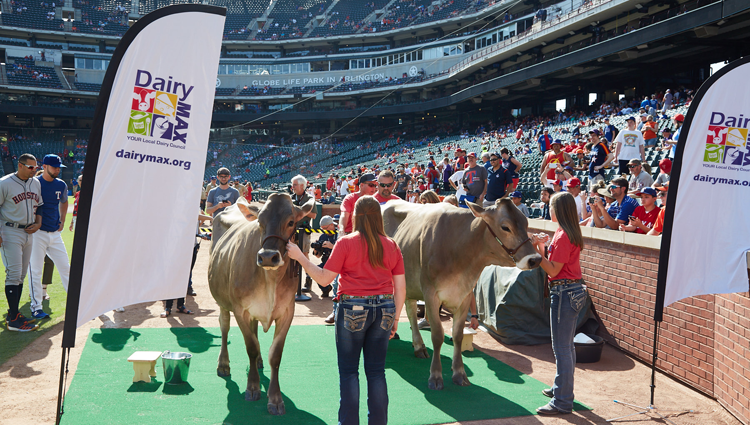 Activities and celebrations planned across Dairy MAX's eight-state area
We've come a long way since the mid-1930s, when the earliest version of National Dairy Month launched. What started out as National Milk Month, a grocer-led initiative to distribute more milk in the warm summer months, became June Dairy Month in 1939 and later the National Dairy Month we celebrate today.
This year Dairy MAX will celebrate online and in-person at a variety of events, parades and dairy days all over our eight-state region.
Marty McKinzie, Dairy MAX's vice president of industry image and relations, says National Dairy Month offers a unique opportunity to showcase the good things dairy farmers do year-round.
"These days, it seems there's a holiday or designated month for just about everything," McKinzie says. "But National Dairy Month is one we can really be proud of as an industry, both because it's a long-standing tradition and because it's a time for us to concentrate our efforts on reaching out to the families that we want to know and appreciate the value of dairy in their diet."
One way Dairy MAX will do that is through Passion for Pints, a regional blood drive where donors receive free milk or other dairy products and have the chance to engage with a local farmer. Drives will take place across the region this summer. To find a Passion for Pints blood drive near you, visit the following blood center websites.
Another highlight is Dairy MAX's partnership with the Texas Rangers. Throughout the month of June, fans will experience BUILT w/ Chocolate Milk messaging in the ballpark, online and over the radio and have the chance to use the "flex cam" during a game. On Saturday, June 22, the first 15,000 fans to the ballpark with receive a BUILT w/ Chocolate Milk '95 All-Star Game Ivan "Pudge" Rodriguez bobblehead. A favorite event is the Dairy MAX Producer Day with the Texas Rangers, where Dairy MAX shows appreciation to local farm families. On-field activities like a player cow milking contest and home run derby celebrate dairy before the game begins.  The industry image and relations team will also participate in local dairy events across the region.
"It's an incredibly busy time for us, but also one of the most fun," McKinzie says. "Because there is nothing we love more than telling the stories of the dairy farm families who produce the dairy foods people love."
National checkoff will be celebrating Dairy Month in a big way by rallying the dairy community to tackle childhood hunger, something that one in six kids in the U.S. face. Undeniably Dairy the Innovation Center for U.S. Dairy and MilkPEP have partnered with Feeding America for activations across the country to showcase dairy's commitment to nourishing people and encouraging donations to the Great American Milk Drive. These efforts kicked off June 5 with a Good Morning America integration and continue throughout the month with pop-ups at school feeding sites, farmers markets and other events.
To learn more about Dairy MAX's efforts during National Dairy Month and beyond, click here.