Refueling High School Athletes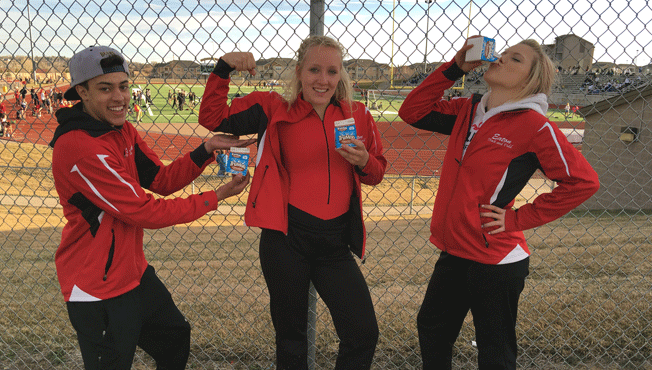 Dairy MAX proudly supports high school athletes through our partnerships with Colorado High School Activities Association (CHSAA) and the Montana High School Association (MHSA). We are continuously sharing our Fuel Up with Milk messaging with athletes across the region through these partners, who are very trusted in the community. CHSAA and MHSA are perfect partners because they share the same goal of helping young athletes fuel their bodies for peak performance.
Our partnership with CHSAA and MHSA give us the opportunity to share nutrition tips through monthly blogs that appear in the students and coach's newsletters. These tips educate members of both associations on the benefits of refueling with chocolate milk, how to eat a healthy breakfast on the run, how to incorporate whey protein into the diet and other nutrition and wellness messaging. Interested in reading some of our nutrition tips? You can check them out on CHSAA's website!
Our Fuel Up with Milk messaging is one of the most popular themes discussed with athletes throughout the region. We offer schools an opportunity to apply for grants to help athletes fuel up after practices and games, a banner to show dairy farmers support the team, as well as a cooler to keep milk at its optimal temperature while it is transported to the athlete's activities.
This year, Charlo School in Charlo, Montana won a milk grant to support their boys' and girls' basketball teams. Charlo plans to sustain milk availability in the coming years with the help of their booster club. In Colorado, a Fuel Up with Milk grant was given to Vista PEAK High School in Aurora. Vista PEAK will be using the grant to support refueling their athletes who participate in summer strength conditioning program, which includes athletes from all of their sports teams.
Our partnership with CHSAA opened up a unique opportunity to create a scholarship, the Dairy MAX Colorado Spirit Award, for high school seniors who are not only involved in athletics, but area also committed to working to end hunger and promote in their communities. Our second round of winners, announced in January, raised funds and awareness for local milk drives and the Great American Milk Drive. 
We are proud to support CHSAA, MHSA and all the athletes – student and adult – throughout our region. We know that milk is the perfect refueling beverage and are working to make sure consumers know that too.