Farmers to Families Food Box (FFFB) Program
This USDA program includes $4 billion in funding to assemble boxes full of food and deliver them to families in need during the pandemic. This involves farmers, ranchers, specialty crop producers, food processors and distributors, and nonprofit organizations, such as food banks. FFFB is a component of the USDA Coronavirus Food Assistance Program (CFAP).
Specifically, the program requests:
Combination boxes or box packages, including dairy, produce and meat

*USDA will give priority to combo boxes

Individual boxes of dairy, including fluid milk
Individual boxes of fresh fruits and vegetables
Individual boxes of meat
All food items must be 100% U.S. domestically procured and have at least a 7-day shelf life.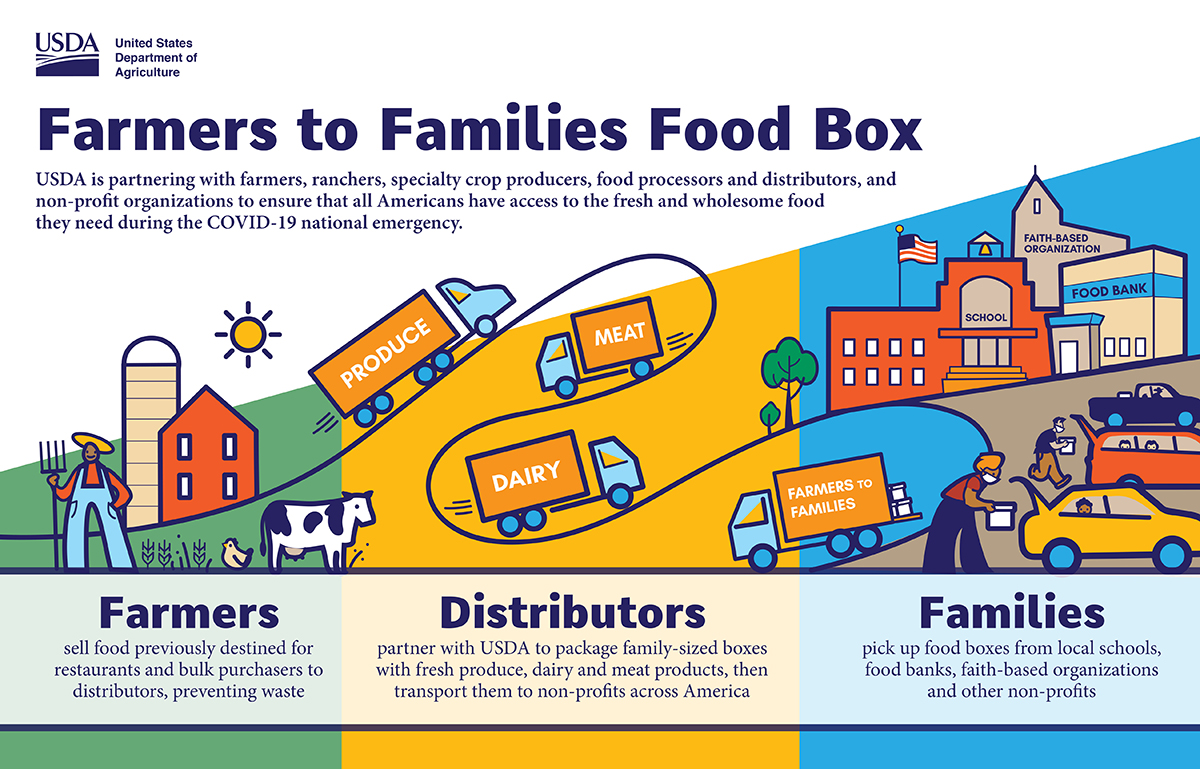 Source: USDA.gov
Who can apply?
Anyone along the supply chain, from farmers to food banks: any entity that can create a comprehensive plan to source, assemble and deliver food boxes directly into the trunk of a car of a person in need (aka "last mile" delivery).
Approved entities will be known as basic ordering agreement contractors, or BOA contractors. The BOA contractor must be responsible for each component of the box and all costs to get the boxes to the end user, though these can be subcontracted.
A basic ordering agreement is not a contract but is a written understanding, negotiated between USDA and a company. It establishes terms for future contracts during a specific period, describes what will be provided and how future orders will be priced, issued and delivered under the contract.
How to apply to be a BOA Contractor
Submit complete BOA proposal submissions to FFFBSubmissions@USDA.gov. See the FFFB Solicitation Round 3 – Full Text for proposal components.
Contractors do not have to be qualified USDA bidders but SAM.gov active registration is REQUIRED prior to BOA application submission.
Offers must demonstrate capability to perform by providing:

FDA food facility registration number
USDA establishment number
Commercial equivalent food safety or registration number
Perishable Agricultural Commodity Act (PACA) license number and date issuance, if PACA license is required
Program Dates
Proposals: The USDA is no longer accepting proposals from vendors to become BOA Holders in the fourth round of the Farmers to Families Food Box program. To date, over 140 million food boxes have been distributed.
BOAs will be valid from date of award until Aug. 15, 2022.
All rounds of the farmer to families food box program have been completed as of May 31, 2021.
Solicitation Performance Periods: The Farmers to Families Food Box program will sunset at the end of May 2021.
Approved contractors - round five - $1.5 billion worth of food scheduled for delivery through the end of April 2021.
Resources
Learn more
Questions about this program?
Program details are updated often. Please check back frequently.
Last updated: February 25, 2021