Strawberry Sheet Pan Pancakes With Yogurt Dip
0.25 oz
Meat / Meat Alternative
Ingredients
32 Servings
2 pounds strawberries, frozen, sliced, no sugar added
3 1/2 cups yogurt, Greek, vanilla, fat-free
1/2 cup nut/seed/soy butter
2 ounces butter, unsalted
10 ounces flour, white whole wheat
10 ounces flour, all-purpose
1 tablespoon and 1 teaspoon baking powder
2 teaspoons baking soda
1/2 teaspoon salt
2 cups milk, low-fat
2 cups yogurt, Greek, vanilla, fat-free
1 cup brown sugar
8 ounces eggs, liquid or large
1/4 cup oil, canola
1 tablespoon vanilla extract
96 Servings
6 pounds strawberries, frozen, sliced, no sugar added
2 quarts and 2 1/2 cups yogurt, Greek, vanilla, fat-free
1 1/2 cups nut/seed/soy butter
6 ounces butter, unsalted
1 pound and 14 ounces flour, white whole wheat
1 pound and 14 ounces flour, all-purpose
1/4 cup baking powder
2 tablespoons baking soda
1 1/2 teaspoons salt
1 quart and 2 cups milk, low-fat
1 quart and 2 cups yogurt, Greek, vanilla, fat-free
3 cups brown sugar
1 pound and 8 ounces eggs, liquid or large
3/4 cup oil, canola
3 tablespoons vanilla extract
Nutrition Facts
per serving
Calories: 198
Protein: 7.33 g
Carbohydrate: 28.85 g
Dietary Fiber: 2.91 g
Total Fat: 6.26 g
Saturated Fat: 1.67 g
Cholesterol: 28.99 mg
Sodium: 206.81 mg
Sugar: 13.77 g
Instructions
Day before service, defrost strawberries in the refrigerator overnight. Place in a perforated pan set over a solid pan to drain liquid.

Critical Control Point (CCP): Hold at 41° F or below.

CCP: No bare-hand contact with ready-to-eat food.

Day before or day of service, prepare Nutty Yogurt Dip. In a large bowl or mixer bowl with whisk attachment, combine yogurt and nut butter. Whisk until light and fluffy. Cover and set aside or using a #30 disher, place 2 tablespoons in 2-ounce cups with lids for service.

CCP: Hold at 41° F or below.

Day of service, preheat oven to 325° F convection or 350° F conventional. Prepare full size sheet pans with parchment paper and pan release spray. Use one pan for 32 servings and three pans for 96 servings.
Melt butter and allow to cool slightly. Set aside.
Gently press strawberries against perforated pan to get rid of excess liquid. Roughly chop thawed strawberries into ~1/2" pieces. Set aside.
Place white whole wheat flour, all-purpose flour, baking powder, baking soda and salt in a large bowl. Whisk until combined.
In another large bowl, combine milk, yogurt, brown sugar, eggs, butter, canola oil and vanilla extract. Whisk until smooth.
Add wet ingredients to dry ingredients. Mix gently with a spatula until just combined. Do not overmix or pancakes may become tough. Gently fold strawberries into batter.
Pour and spread batter evenly into prepared pan(s). Bake 16-18 minutes or until lightly browned and toothpick inserted in the middle comes out clean.

CCP: No bare-hand contact with ready-to-eat food.

For 2 ounces eq WGR grain servings, cut each pan into 32 pieces. With the pan horizontal, make one cut down center, then cut each half in half, then each quarter in half again. Turn pan vertically, make one cut down the center, then cut each half in half.
Serve pancake with #30 disher Nutty Yogurt Dip.

CCP: Hold at 41° F or below.
Tips
Fresh strawberries may be substituted for frozen, when in season.
Nutty Yogurt Dip is optional. If district does not include dip, Strawberry Pancake credits as 2 ounces eq WGR grain. Regular vanilla yogurt may be substituted for Greek to prepare pancakes.
Each serving provides 2 ounces eq WGR grain.
Nutty Yogurt Dip provides .25 ounces meat/meat alternative.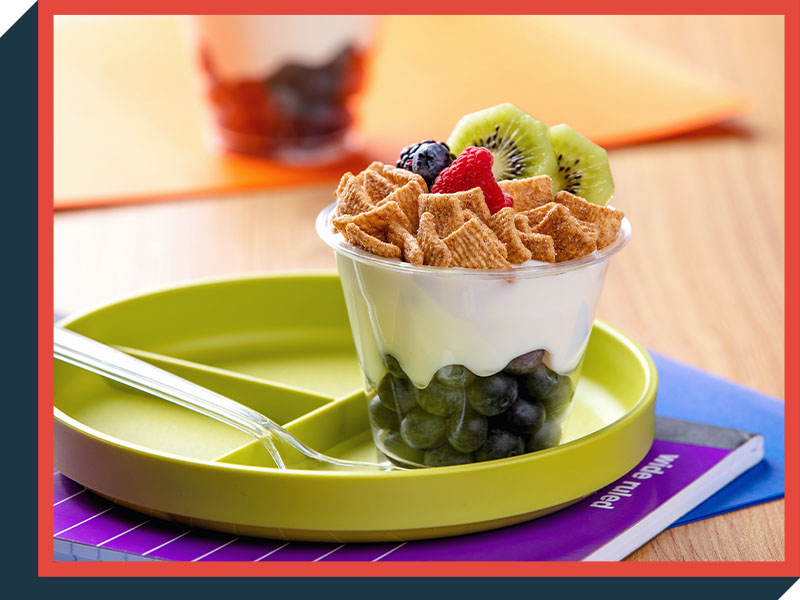 For next steps on promoting and implementing these delicious breakfast recipes, download the full Breakfast Toolkit!
Download