Dairy MAX Named as an Official Nutrition Partner for OpTic Gaming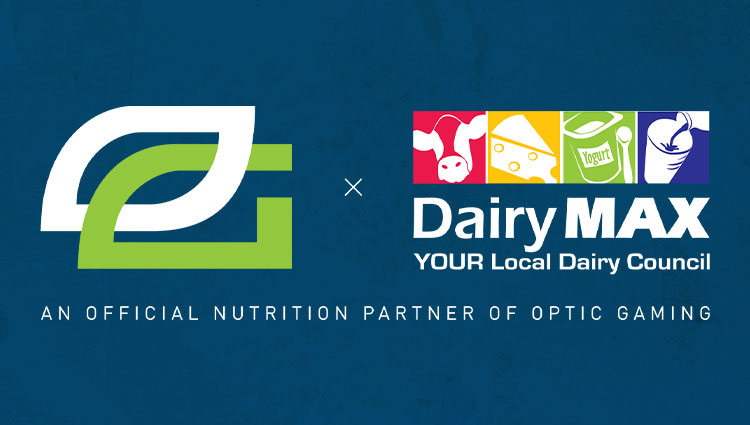 Regional dairy council partners to drive awareness of nutritional and cognitive benefits of milk, cheese, and other dairy products
DALLAS (September 21, 2022) – Nonprofit regional dairy council, Dairy MAX, today announced a partnership with OpTic, one of the most winning esports organizations in the world. Dairy MAX, representing 900 dairy farm families across eight states, is part of the National Dairy Council. The partnership will lean into OpTic creators and the organization's esports teams to help connect to dairy farm families and educate the community about the nutritional power and benefits of dairy.
Our dairy farm families are focused on making sure the next generation includes dairy as a trusted source of nutrition," said Mike Konkle, CEO of Dairy MAX. "We know that 96% of Gen Z in the U.S. plays video games, and we need to meet them where they are. We're excited to collaborate with OpTic as an Official Nutrition Partner."
This partnership will allow OpTic and Dairy MAX to collaborate at live and virtual events, integrated social media campaigns with OpTic creators, video content showcasing esports pros and gaming personalities testing dairy's benefits on their cognitive performance and opportunities for students to compete and learn.
"We know that for our teams to compete with the best and our creators to perform at the top of their game, solid nutrition is a critical part of being well rounded," said Erin Schendle, SVP, sales and partnerships at OpTic. "Launching a partnership with Dairy MAX is a fantastic way to promote the importance we place on the health of our professional players and we look forward to engaging with the community to bring nutrition and the value of dairy in a healthy diet into conversations around gaming."
About Dairy MAX
Founded more than 40 years ago, Dairy MAX is one of the leading regional dairy councils in America – representing more than 900 dairy farmers and serving communities in eight states: Colorado, southwest Kansas, Louisiana, Montana, New Mexico, western Oklahoma, Texas and Wyoming. A nonprofit organization, Dairy MAX is part of a nationwide effort to promote American agriculture, support dairy farming and drive impact for every dairy farmer. The organization operates five audience outreach programs: business development, consumer marketing, health and wellness, industry image and relations and school marketing. For more information about Dairy MAX and its team of experts, visit DairyMAX.org. Dairy resources and delicious recipes are available at DairyDiscoveryZone.com.
About OpTic Gaming
OpTic Gaming is an entertainment, media, and esports company based in North Texas. Founded in 2006, OpTic is one of the most winning esports organizations in the world and features content creators, competitive gamers, and esports teams with global reach. The company has produced award-winning docuseries and currently operates Esports Stadium Arlington. OpTic's ownership group includes superstar Post Malone, esports industry pioneers Hector Rodriguez and Mike Rufail, and Gray Television. For more information, visit OpTicGaming.com.