Dairy MAX Teams Up With Liviri to Ease Feeding Challenges in Schools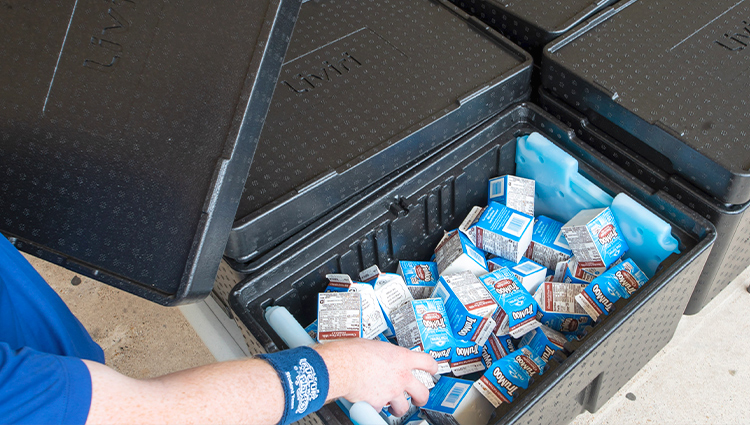 Fifty percent of school districts list cold storage as greatest need when serving families
GRAND PRAIRIE, Texas––April 27, 2021––Nonprofit regional dairy council Dairy MAX partnered with Liviri, an Otter Products brand based in Fort Collins, Colorado, to donate more than 700 insulated coolers to public schools in Colorado, Wyoming and Texas. Within Dairy MAX's eight-state region an estimated 7.4 million children rely on school meals, with 80 percent depending on free and reduced-price options. This new partnership between Dairy MAX and Liviri, with support from both the Denver Broncos and the Dallas Cowboys, seeks to prevent interruptions in providing meals as well as keep milk and dairy products readily and safely available to families in need. (Want to help? Get in touch with Dairy MAX to donate.)
The COVID-19 pandemic impacted schools' ability to continue providing meals to children who rely on them each day. With many students now learning virtually, districts across the country have sought to avoid interruptions in providing meals as well as improve the overall experience. This shift resulted in minimal-contact options available to families, such as providing meals at pick-up or drive-through locations, delivering meals along bus routes and sometimes delivering meals directly to homes.
"Dairy MAX and the dairy farmers we serve are driven to get milk into the hands of anyone in need, with schools being at the top of that list. Through this partnership with Liviri, we are able to ensure more kids and families have access to milk and nutritious meals daily," said Jennie McDowell, vice president of business development at Dairy MAX.
The Liviri "Sprint" cooler is an environmentally-friendly, lightweight insulated tote with the ability to safely transport temperature-sensitive perishable goods. Through donations of Liviri Sprint totes, Dairy MAX has helped school districts continue serving balanced meals outside of the school and cafeteria while ensuring food safety of milk and other perishable items.
"Our corporate mission is rooted in giving back, and we are honored to partner with Dairy MAX to help provide a cold food storage solution for schools," said Chuck Kukic, Liviri general manager. "The opportunity to support school districts as they ensure students continue to receive free and reduced meals fills us with pride. This is a perfect use case for our products on every level."
"What started as a donation of 50 coolers to schools in Colorado quickly grew into a partnership providing coolers across multiple states within our region, impacting nearly half a million students," said McDowell.
School-provided meal programs—especially those that offer free and reduced rates for those who qualify—play a critical role in alleviating food insecurity and supporting student health and education. For the past year, Dairy MAX partner GENYOUth has provided funds to help schools buy equipment, such as Liviri coolers, through its COVID-19 Emergency School Nutrition Fund. The organization has provided nearly one billion school meals so far, and Liviri coolers will continue to be a critical part of school feeding strategies for the 2021-2022 school year.
Contact Dairy MAX to donate to the Liviri partnership.
About Dairy MAX
Founded more than 40 years ago, Dairy MAX is one of the leading regional dairy councils in America – representing more than 900 dairy farmers and serving communities in eight states: Colorado, southwest Kansas, Louisiana, Montana, New Mexico, western Oklahoma, Texas and Wyoming. A nonprofit organization, Dairy MAX is part of a nationwide effort to support dairy farming and drive impact for every dairy farmer, while promoting American agriculture. The organization operates five audience outreach programs: business development, consumer marketing, health and wellness, industry image and relations and school marketing. For more information about Dairy MAX and its team of experts, visit DairyMAX.org. Dairy resources and delicious recipes are available at DairyDiscoveryZone.com.
About Liviri
Liviri is here to do what cardboard can't. Our family of reusable, thermally protective containers provide durable, sustainable and reliable transport solutions for everything from shipping frozen meats store-to-door to staging chilled groceries for pickup to sending fine wine in any season. Our square box with a circular mindset carries scalable, cost-effective results across the cold chain.